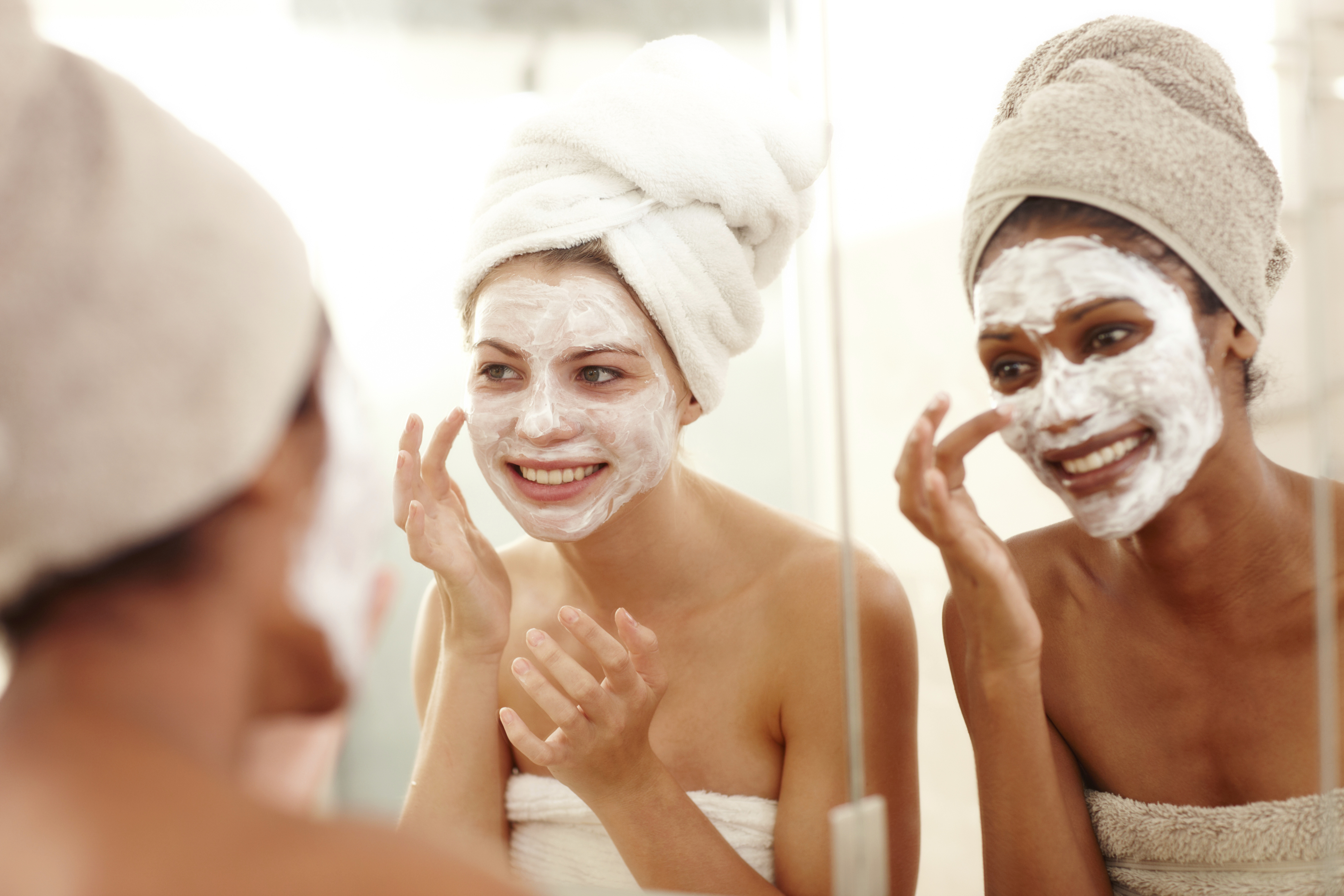 As budgets grow tight, many of us are tempted to save on the spa expenses and do whatever treatments we can at home.
Can an at-home spa facial replace the one we'd get by a professional at a spa? Whether at home or at a spa, the focus is about caring for your skin and either way will  hopefully give you beautiful results and help maintain healthier looking skin. But are homemade facials as effective, useful or safe compared to spa facials?
MORE: Facial Peels 101: A Dermatologist Explains
On Homemade Remedies:
We love homemade facials – they are quick, at-home spa treatments that make us look and feel better, plus they provide a relaxing respite! The best part, besides being way more affordable than a spa treatment, is the ability to completely customize the facial to your skin type and sensitivities and have the facial whenever you have time – no scheduling or commute required. Many of the staples of a homemade facial may even be right in your kitchen fridge right now; yogurt, oatmeal, seed and nut meal, and milks are all great ingredients to add to a cleansing facial. By creating your own facial recipes, you're able to pay attention to what ingredients are in your beauty products and ending up on your skin.
Homemade facials have been around for hundreds of years, way before spas or professional skin care existed.  "There are many household items that can be used or combined to create masks, toners and scrubs to soothe dry skin or address excessive oil production. For instance, dry skin can be treated with a hydrating mask made from avocado and honey, while raw turbinado sugar mixed with coconut oil makes a great body scrub. Colloidal oats can bring relief to those suffering from eczema. Oily skin types can benefit from toners made from witch hazel or tea tree oil," says Lila Castellanos, owner of Doll Face Skincare Studio.
About Professional Skin Care: 
The benefit of seeing a skin care professional lies not only having access their expertise from treating all different skin types, but also the arsenal of products they have at their disposal. "Professional facial products offer more active ingredients along with years of proven scientific research created specifically to address skin issues and produce results. Also, as many people face more than one issue concurrently, it's best to rely on the knowledge of a skin care professional to address facial treatments and home care use, to avoid any contradictions," says Castellanos.
"These are generally facials given by med-aestheticians who are under the supervision of a dermatologist or cosmetic/plastic surgeon and this means that they are better directed for specific issues.  Also, the products and equipment used are more professional medical grade equipment," says Dr. Jeannette Graf, assistant clinical professor of dermatology at Mount Sinai Medical Center, NY.
Professional facials allow for deep steaming and cleansing of the skin and are also designed to correct ongoing unwanted skin conditions. They are also great for extractions which one should always have done by a professional to prevent scarring."After spa facials and professional exfoliating treatments, your skin will be more radiant for a longer time and your home care products will be able to penetrate and work more effectively. Lastly, the skin changes seasonally so it is important to have a professional facial at least seasonally to tweak your home care products use and prep for the upcoming season," says JoElle Lee of JoElle Skincare.
MORE: Everything You Need to Know About Getting a Facial
Best of Both Worlds: 
The best way to go is a combination of both. Treat your skin to a little home pampering, but keep in mind that your skin will  be best served by sometimes seeing a professional and using scientific skin care formulations. This is especially true if you suffer from conditions such as acne, hormonal issues, rosacea, eczema, psoriasis or sun damage.
Homemade facials are great for maintenance in between professional facials to prolong results. Being intimate with your skin is the first step to maintaining its beauty and health. Just incorporating a mask and facial scrub in your home care regimen once a week can result in instantly glowing skin. "For optimum results, homemade facials can be done at least twice a month or even once a week. For those that don't have time for regular professional facials, homemade facials can do the trick when your are in a pinch for that upcoming date or event," says Lee.
"When used at home, facials can be quite helpful including using at-home peels as well as calming, soothing masks  and mud or clay masks.  Spa facials are operator dependent and as long as the aesthetician is aware of skin issues, which they should be asking about (rosacea, skin sensitivity, etc.), they can be fine as well.  You can also ask your dermatologist what type of facial can be good for you," says Dr.  Graf.
Image via Laflor/Getty Images