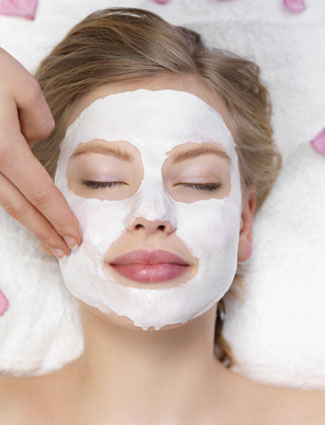 We know how great facials can be for our skin, but that doesn't mean we like ponying up the cash to get them done professionally every week. Instead, we turn to celebrity esthetician Renée Rouleau for her DIY tips.
Related Article: Fight Your Skin Problems With Fruit
"An at-home facial shouldn't take longer than 30 minutes and can really help skin achieve optimal results," advises Renée. "It can keep blemishes at bay for acne-prone skin types, deliver intense moisturizing properties to those who experience dryness and dullness, and balance sensitive skin type."
Step 1: Wash skin with a cleansing lotion (for normal, dry and sensitive skin types) or a gel cleanser (for normal, oily and combination skin types).
Step 2: Apply a thin coat of an exfoliating peel, like Renée's Triple Berry Smoothing Peel ($85, Reneerouleau.com), and leave on for 5-10 minutes to dissolve dry skin cells. Rinse well.
Step 3: Immediately apply a facial scrub, like Avéne Gentle Purifying Scrub ($18, Drugstore.com), to the face and massage in tiny circles for 30-60 seconds to lift off dry skin cells.
Step 4: Apply a few drops of a facial serum, like Kate Somerville Quench Hydrating Face Serum ($65, Sephora.com). A skin serum is a skin care product that cntains a higher concentration of active ingredients and usually comes in a gel or creamy gel form. It is meant to be used under a moisturizer or mask to boost the results.
Step 5: Masks are an important part of achieving healthy, beautiful skin. Because everyone's skin is unique, masks are not one-size-fits-all. It is important to use the right mask for each individual skin type. A gel mask is great for providing hydration, a clay-based mask works to absorb oils and tighten the skin, and cream-based masks contain moisturizing oils that help to deeply hydrate or plump up the skin. Once determined, apply a think layer of mask to the entire face and neck. Let dry for 10 minutes, rinse well and apply moisturizer.
Related Article: The 70-Year-Old Facial That Still Rocks
What are your DIY facial tips?