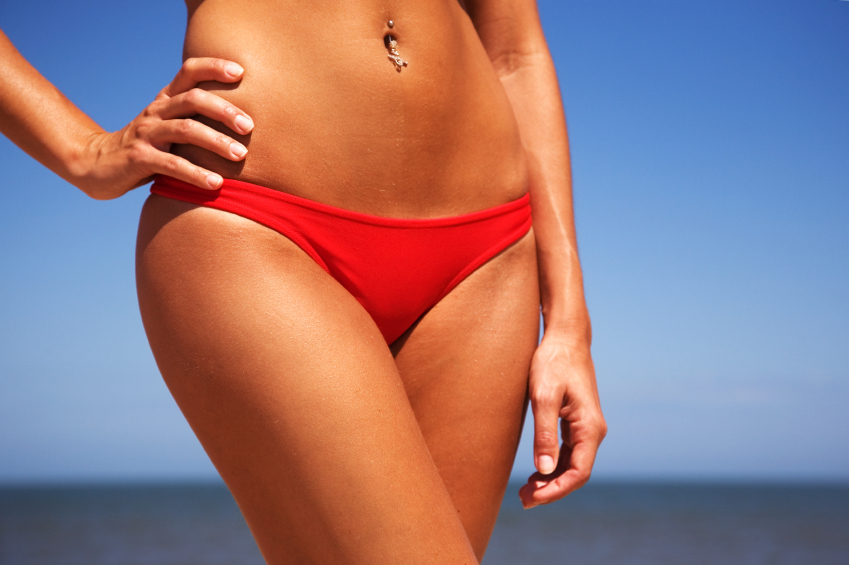 Besides the ouch factor, there's one other downside to a bikini wax: the in-between stage when your down-there hair situation can make you want to reach for your razor—or book twice the amount of appointments you'd normally need. The solution to this summer beauty bummer? A DIY bikini wax.
"At-home bikini waxing is great for those times that you can't make it to the spa or need a touch up—especially during the summer months," says waxing pro Nicole Garcia, lead esthetician at Bliss Spa's location in Dallas, who gave us the complete scoop on bikini waxes at home. It'll not only help you stay smoother for longer, but it'll also save you the price tag that comes with a full-on wax.
Going the do-it-yourself route doesn't come without its risks, however. Because you don't know what you're doing (yet!), there's more room for error. You run the risk of burning and bruising yourself, or even pulling off skin—but yanking off a layer of your epidermis generally only happens if you wax an area that you apply retinol to or one that's been sunburnt, according to Garcia.
The good news is you can avoid these scary side effects by following a few simple rules and instructions. Plus, the more you do it, the better you get. Here, Garcia shares a step-by-step guide to mastering the at-home bikini wax.
Do:
Leave full Brazilian waxes to the professionals—especially if you're new to at-home waxing.
Consider taking a pre-treatment dose of Advil to help minimize the pain.
Practice on your leg or forearm before going for a trickier, more sensitive area like your bikini line.
Check the temperature of the wax on your forearm before applying it to your bikini line.
Don't:
Wax an area of skin that's sunburnt.
Keep reapplying wax if your hair's not long enough—it should be about a quarter of an inch long for best results.
How to Do It:
Exfoliate the area to get rid of dead skin cells and let the hair break through the surface.
Protect your underwear from the wax by folding a tissue or paper towels around the edges of the elastic bands.
After heating up your wax (if your kit requires it), sit on the floor with your knees slightly bent and your legs turned outward.
Apply a pre-wax oil (like Bliss's Poetic Waxing Pre- and Post-Waxing Oil) to the area. Garcia recommends waxing oil instead of baby powder since baby powder may dry out your skin.
Test the temperature of the wax on your forearm before applying it to your bikini area.
Stretch your skin and use the spatula to apply a thick layer of wax in small strips—one to one-and-a-half inches long—against the direction of your hair growth.  [Ed note: If you're using a waxing kit that comes with strips, this is when you'll firmly press the strips to your skin and then continue on to step 7. If you're using a kit that doesn't require strips—like Bliss's Poetic Waxing At-Home Hair Removal Kit—wait until the wax has dried and no longer sticks to your fingers when you touch it, then continue on to step 7.)
Hold your skin taut, grab an end of the wax strip, and pull against the direction of hair growth. Garcia suggests keeping the movement parallel and close to your body to avoid bruising yourself.
 Clean up the area with a post-wax cleanser.
Image via iStock
More Grooming Tips From Beauty High:
Waxing 101: Important Details to Know Before Your Summer Bikini Wax
How to Treat and Prevent Ingrown Hairs
Wax On, Wax Off! 7 Essentials For at Home Hair Removal