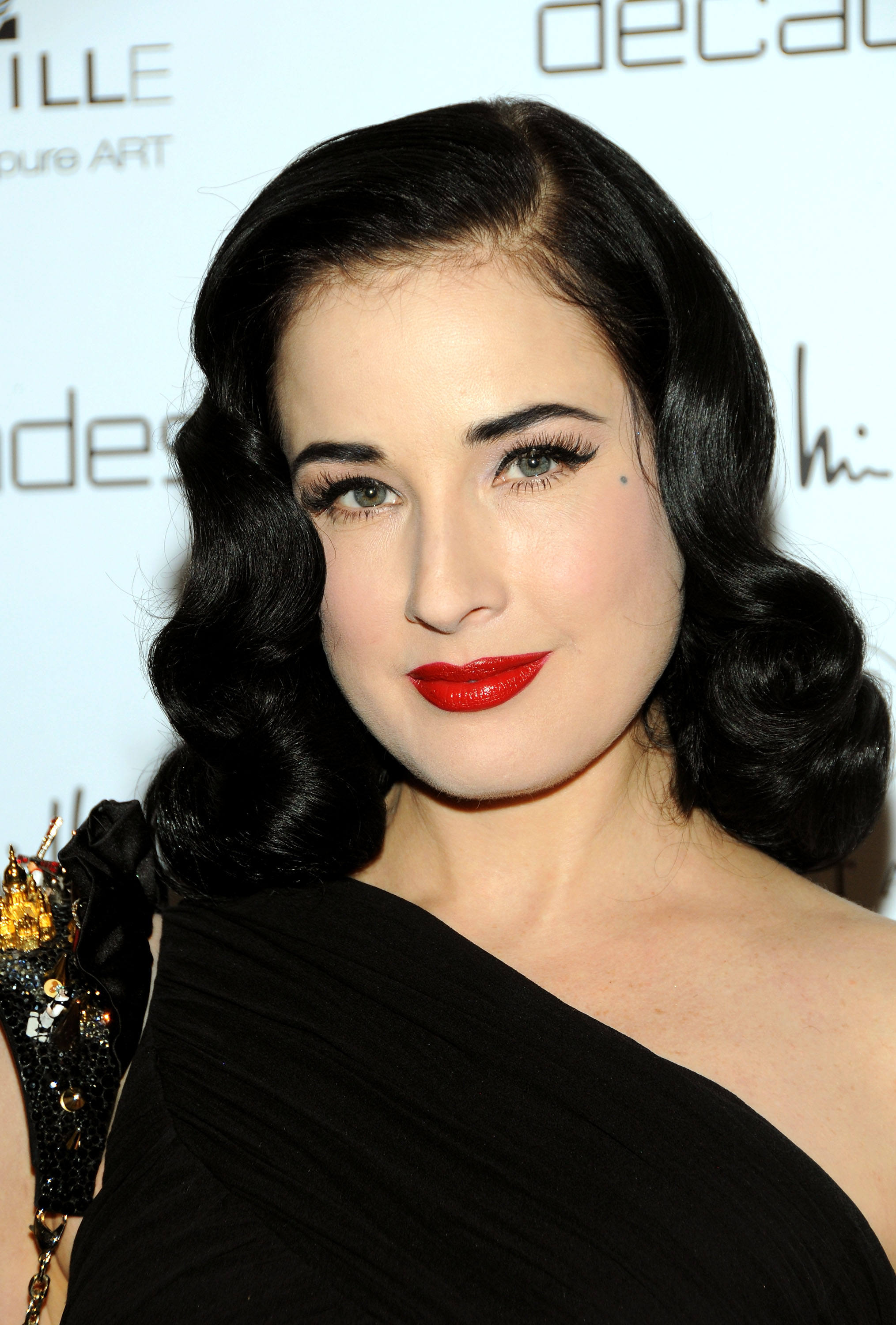 With her creamy white skin, glossy dark hair and perfect red lip, Dita Von Teese has earned a spot as one of my beauty heroes. She falls in line with other stars who have created a signature look for themselves, like Marilyn Monroe or Gwen Stefani. But does she ever get sick of the self-made uniform?
"Sometimes I fantasize about having blonde hair again or red hair," says Dita. "But I never get sick of the red lipstick."
I'm obviously not alone in my fascination with the burlesque star. Her line of lingerie and two fragrances are launching on HSN.com April 23rd. After seeing the 1930s-inspired bottle for her eponymous perfume, I had to know the inspiration behind the seductive scent.
"I was going through this funny thing that happened," says Dita. "I was dating somebody new, and he confessed that the perfume that I wore, that I'd been wearing my whole life, basically, was the same perfume his mother wore. When it happened I called my friend Kilian Hennessy, who's a really great perfumer, and I said 'Well I don't know what to do. His mother wears the same perfume.' He said, 'It's not possible. You get rid of the man or you get rid of the perfume. There's no other option.'  So when I was approached to make my own, I went in, and I was intent on creating my own new signature scent to replace that."
Dita's new signature scent opens with fresh bergamot, peony and Bourbon pepper but quickly transitions into a warmer base of patchouli, musk, guaiac wood and sandalwood. As a young girl, though, Dita gravitated toward the popular Love's Baby Soft, and later, her mother's bottle of Halston. 
Soon, Dita's ventures may expand into cosmetics. She already has a limited-edition line of red lipsticks with Art Deco, but unfortunately for me, they're only available in Europe. So, what about those of us in the US? "I'm working on a new project. I definitely always want to be creating lipsticks, because it's something that I love to do. It's just a matter of getting the right collaboration." In the meantime, Dita says her favorite reds are MAC's Ruby Woo ($15, macys.com) and Dior's discontinued Dolce Vita Red.
What I really wanted to know was how to get flawless skin like Dita's. "I use a light retinol at night a few times a week. I use sunscreen diligently. I'm pretty basic when it comes to my skin care. I don't feel like there's any miracle products that I use." Well, that's disheartening, but it's nice to hear a celebrity be honest about their naturally good genes.
Do you love Dita's look as much as I do?