There are two things you need to know about me:
I will buy any new lip balm that promises to plump my lips even though my lips are already quite plump (I'm not Angelina but I hold my own)
I'm a sucker for anything rose-scented
So imagine my sheer delight when I see that Dior has launched the Creme de Rose Smoothing Plumping Lip Balm!
This balm is light and non greasy and hydrates my kisser, even when the winter winds are wiping at my face.
It retails at $25, which you may think is a little steep but chew on this: I've had my Creme de Rose for almost two months now and this is the dent I've made on it: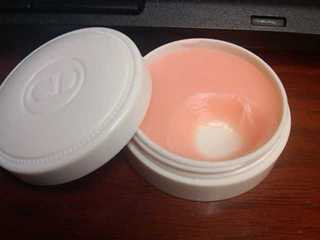 I use it practically every day, multiples times a day. So as you can see a little goes a long way.
If you are a sucker for any type of new lip balm then Dior Creme de Rose is worth the try!