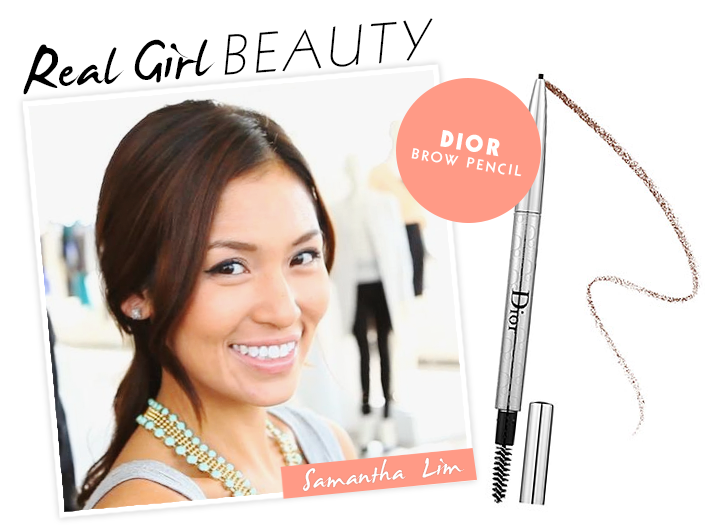 Going backstage and learning tips and tricks from the professionals may be an adventure, but sometimes, the best tricks come from real girls. In "Beauty and the Real Girl," we learn the best beauty tips, tricks and secrets from girls just like us.
Unless you've been living under a rock for a the past few seasons, you know that eyebrows are making their way to the top of the beauty world as facial feature to emphasize. "It" girls like Cara Delevingne and Lily Collins may have been born with full brows, but the rest of us usually need a bit of help in that department. 

MORE: Instagram Insta-Glam: Bold Eyebrows
Samantha Lim, Director of Features and Branded Content at StyleCaster Media Group, knows exactly how to fake a good eyebrow and work with what she's got. We caught up with Samantha to learn her best tips for filling in and perfecting when you're not born with the bold brows you want.
"My must have product is the Dior Brow Styler Precision Brow Pencil," Sam tells us. "Messy eyebrows can throw your entire face off, and perfectly groomed ones can define everything about it, so this tool is a power player in my makeup bag. It's a universal shade (you can literally use it on both light and dark hair as well as both light and dark skin!) and the pencil is so smooth that you can pull off both natural looking brows for day or dark, dramatic ones for night (or also for day if you're channeling Cara Delevingne). Bonus: The pencil is retractable so there's no pesky sharpening involved and the other end has a hidden brush for fine tuning any loose hairs."
Image Courtesy of Samantha Lim
Where to Buy: Dior Brow Styler Precision Brow Pencil, $29, Sephora.com