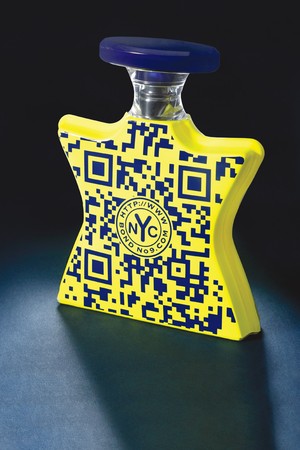 We love the digital age as much as the next online maven, but does making a fragrance digital take things too far? Bond No. 9 New York, the company famous for "making the scents of New York," has decided to throw a curveball into the world of fragrance—and it's something we would've never expected.
Beginning in June 2013, the digital fragrance, which doubles as a 3D QR code, will be available to consumers for purchase. Named HTTP://WWW.BONDNO9.COM, we know you're probably wondering what a digital fragrance smells like, right? Though we can explain it as fresh, fruity and woody, we've never actually smelled the fragrance—because it's not being sold in stores, and the only way to smell it is if you've already purchased the perfume.
Founder and owner of Bond No. 9 Laurice Rahme said of the new fragrance, "We really wanted to capture what is going on in the world. Everybody is online. Everybody is mobile. So we have to do a fragrance for that world. It's a different world." We agree that today's world is clearly online and mobile, but some things call for a traditional way of doing things, like smelling a perfume before making it your signature scent. Plus, the un-smellable scent that boasts a "universal, something that everybody likes, and young," costs $250. Call us old fashioned, but we like to know what we're going to smell like for a chunk of change that large.
Would you spend $250 to buy a perfume you'd never smelled before? Sound off in the comments below! 
[WWD]