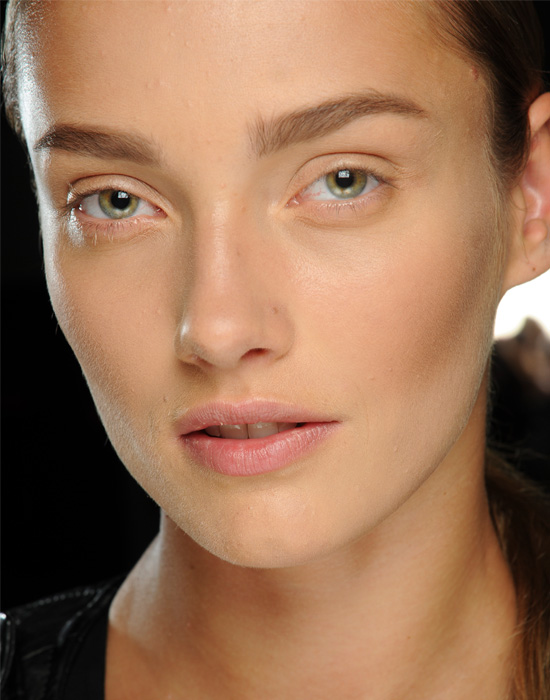 The idea of a chemical peel is scary — maybe because it sounds so much like "chemical burn." But after hearing about the benefits a chemical peel can have for skin — unclogged pores, even tone, an acne-free complexion — I knew I had to try one. Whether your goal is a major makeover, like eliminating fine lines and wrinkles, or as simple as preventing breakouts, there are numerous peels to choose from, ranging from deep (many layers of skin) to light (more surface-level). Word of caution: Peels work best on pale complexions. Darker tones should stick to very mild peels so discoloring doesn't occur. Since my main concern is some acne along the chin, I decided to try the Clarify Peel (for clearing oily skin or acne) from the Jan Marini Skin Research Marini Peel System. The peel, which contains salicylic acid and mandelic acid, is one of the less harsh variety and has a recovery time of 3-5 days. Basically my skin was going to peel for five days, but underneath I would have smooth, blemish-free skin.
Day 1 – Getting The Peel
I didn't completely know what I was getting myself into when I sat in Dr. Lee Ann Klausner's chair for my appointment. On a scale of 1 to 10, she said the peel would be a 6 or 7. That's when it hit me. This wasn't a relaxing facial or microdermabrasion; this is what they refer to when they say beauty is pain. So I laid back in the chair, took a few breaths and let her get to work.
After scrubbing my face of makeup, Dr. Klausner applied the peel. In short, it stung. She let the formula seep into my skin. This took about two minutes and then she neutralized the peel. Because my skin is sensitive, it immediately reacted to the peel, getting red and hot. Otherwise, she would have applied another layer of the acid on top. Either way I would have the same results. It depends more about what your skin needs, not how much product you're using.
After appling the peel, Dr. Klausner finished with a layer of Jan Marini Antioxidant Daily Face Protectant SPF 33 ($48, janmarini.com) on the face to provide a layer of protection before I walked outside. (Your skin is most sensitive and susceptible to sun damage just after a peel, so SPF right after is crucial). Right before walking out the door, I checked my face in the mirror — it looked like I had the worst sunburn of my life. Throwing on my sunglasses to cover my face, I headed back to the office. Throughout the day, my face went from a bright red to a rosy pink with blotches. That night I skipped any cleansing and applied a generous amount of the Peptide Extreme ($89) serum Dr. Klausner had given me, a rich blend of antioxidants to hydrate and repair the skin.
Day 2
The morning after my peel, my face had a pink tint but nothing too extreme. My skin was feeling less sensitive, so I was able to use a gentle cleanser (I opted for Dr. Dennis Gross All-In-One Facial Cleanser With Toner) and luckily, there was no stinging. I applied a light BB cream on top, Lumene Vitamin C+ Illuminating Anti-Age BB Cream SPF 20, to even out the blotches. By that evening, my face started peeling, but it wasn't bad, and it was concentrated around my chin where I normally get my acne. I finished the day with the cleanser at night, which stung this time because the product was hitting the exposed skin.
Day 3
The peeling around my chin and nose moved over to my cheeks. I skipped cleanser that morning because my skin was so sensitive and dry. After applying the Peptide face lotion and sunscreen, I dabbed on BB cream. The good news: As bad as my skin looked in the morning, the BB cream always helped hide the evidence. No thick, caked on foundation needed.
Day 4
The peeling was similar to the day before. However, I was attending a communion that day where my whole family would be present. Rule of thumb: Never schedule a peel within a week of a social function. Luckily, the BB cream was still doing wonders and no one noticed the peeling.
Day 5
The redness was completely gone and the peeling was almost non-existent. My skin was far less sensitive and I was able to use a cleanser before applying the peptide lotion.
Day 6
The peeling had completely disappeared to reveal smooth, blemish-free skin. I was able to start the Jan Marini product routine that is part of the peel system. In the morning, I applied the Bioglycolic Cleanser ($29), which exfoliates without drying skin, followed by a C'esta Serum ($90), a Vitamin C-rich formula that boosts collagen and improves skin tone, the Peptide Extreme and the Face Protectant. At night, I applied the Bioglycolic Cleanser, C'esta Serum, Bioclear Lotion ($58), a skin resurfacing solution, and Transformation Cream ($89), which also creates a smoother texture.
It's been almost three weeks since the peel and my skin is still reaping the benefits. Although I have had minor breakouts since then, the texture of my skin has changed drastically. It's smoother than ever and red blotches that I suffered from in the past are completely gone. Would I do the peel again? Now that I know the recovery time that comes with it, I'd make sure to block out some time in my schedule for hibernation. Because the results are definitely worth it.
Read more: We Tried It: Jennifer Aniston's Weird "Cupping" Therapy