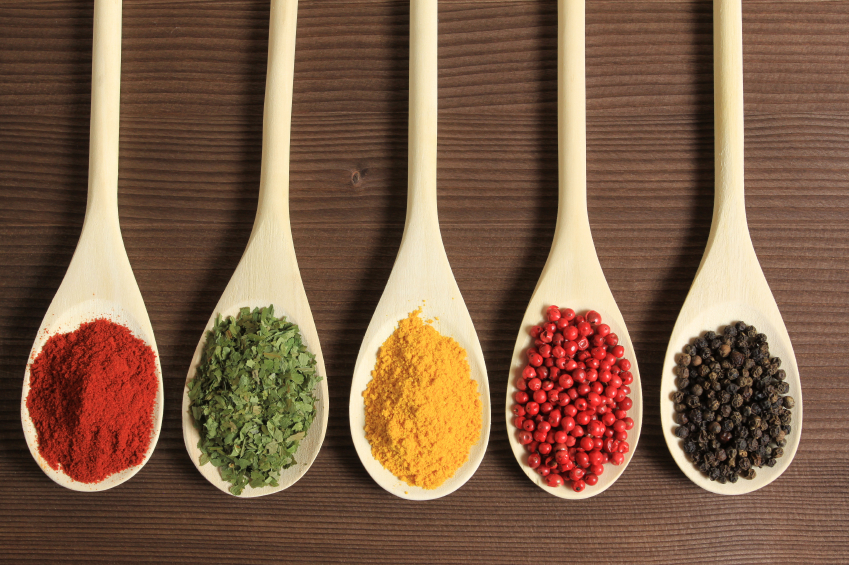 With Thanksgiving just weeks away, we're already thinking about the mashed potatoes, pies and stuffing we'll soon consume — and the massive food babies we'll be sporting come Black Friday (there's no shame in wearing sweatpants to Thanksgiving dinner, right?).
Since we'll clearly need to help our bodies bounce back from the holidays, we did some research on little-thought-of ways to detox — and it turns out that many spices can actually help filter through all of those toxins. Use them in your Turkey Day cooking — or when prepping any meal — to reap the benefits of these seven svelte-making seasonings.
MORE: 10 Foods That Make You Look Tired
Cilantro: Also known as Chinese parsley, this popular flavor-maker in salsa aids with mercury detoxification, says celebrity nutritionist JJ Virgin, author of The Virgin Diet. Too much mercury in your system, which typically comes from eating too much fish, can cause fatigue and digestive problems.
Cayenne: This spice became famous due to its inclusion in the Master Cleanse diet, but you don't need to give up solid food to get cayenne's detoxifying effects. (Whew.) The spicy seasoning encourages digestion and muscle movement in your intestine, plus it helps your body absorb nutrients.
Curcumin: This powerful antioxidant and detoxifier can also reduce mercury damage, Virgin says.
Ginger: A popular ingredient in pressed juices, this antioxidant as also an anti-inflammatory. Virgin cites research finding that, when combined with thyme, ginger provides detoxifying effects and can lower alcohol toxicity.
MORE: 7 Foods That Clear Your Complexion
Rosemary: According to one study, rosemary extract could protect the liver and stomach — at least in mice — against carcinogenic and toxic ingredients.
Cinnamon: Just in time for Christmas cookie baking and hot chocolate making comes this happy news about our favorite holiday spice: Lab studies showed that cinnamon may actually reduce inflammation in the body, and the spice could have antioxidant effects and fight bacteria.
Garlic: Virgin says that this spice is a great source of sulfur, which is crucial for what's called "phase two" detoxification, in which toxic substances are excreted from your body.
Image via Istock