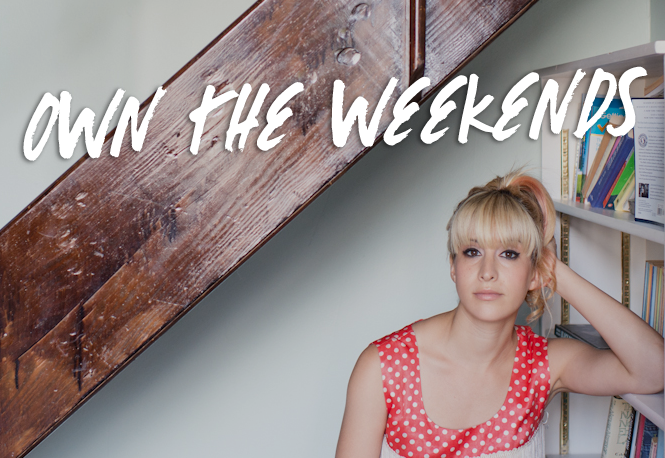 While summer is coming to a close, we still have a  few celebratory weekends to go.  End of the season BBQ's and of course Labor Day parties, travel is definitely going to be in store in the coming weeks. With that on our minds, we caught up with fashion designer Rachel Antonoff.  Antonoff, known for her fun prints and easy to wear styles, also just happens to be BFF's with Lena Dunham, who is dating Antonoff's brother (the guitarist for Fun). So, it's no surprise that she has places to go and people to see on the weekends, and we had to know her best tips for packing and go-to weekend style.  Plus, she of course included her on-the-go beauty advice to be overall travel ready!
Beauty High: How would you describe your signature summer weekend look, both fashion-wise and beauty-wise?
Rachel Antonoff: My signature summer weekend look is an easy dress I can throw on and slip on flats. I tend to have a uniform, once I find a dress thats both cute and comfortable, I will wear it to death.
Regardless of your weekend destination, what are 3 beauty products you'll never leave home without?
Blistex Lip Medex (literally never out of arms reach), Oil of Olay Moisturizer and face wipes.
What's the last thing you bought that you're psyched to debut this summer? 
My printed button down dress I got at Target!

Be honest: What type of packer are you? Do you toss everything in a bag at the last minute, or are you meticulous about selecting items, folding, etc. Also, do you tend to over-pack or under-pack for a weekend away?
I am meticulous to a point that is embarrassing. Overpacking goes without saying (I may want to wear that ballgown I've literally never worn once) and I actually keep a box of bounce fabric softener in my suitcase – it makes everything smell great!
Beauty or fashion-wise: What's one move girls should ditch from our typical weekday routines during summer weekends and why? 
I would say full face of makeup. All of that foundation in the heat? Not a good idea.
What's your absolute favorite thing about summer weekends?
Summer thunderstorms : )
Photo by Daniel Silbert
More From Beauty High:
Jewelry Designer Jennifer Fisher Dishes On Her Summer Weekend Style
Makeup Artist & Street Style Star Kristin Gallegos On Her Summer Weekend Essentials
Nail Artist Miss Pop On "Back to the Future" Style and Mirror Metallics