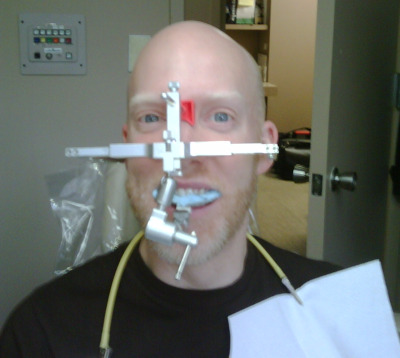 I have never been that guy who hates my smile. My teeth are far from perfect–actually they are not the slightest bit straight. Although I am not insecure at all about my smile, it has never been something I get a compliment on. As a kid I had a retainer with a spacer in it which, after all the money spent by my parents, did nothing. It was fun to put in my friend Cheryl's glass of milk so she had a surprise when she got to the bottom though. It was not so fun when I left it on my tray at McDonalds and I had to go through the trash to find it.
Over the past five or six years I have been considering getting them straightened (Oprah made a comment once about your teeth giving away your age!). A guest in the salon one day happened to be an orthodontist and I chatted her up about Invisalign. I had heard a lot about them and had some clients who had them and loved them. She thought I was not the best candidate for Invisalign and recommended braces. Just in conversation over the shampoo bowl she estimated one to three years… no way. I just can't do it.
I recently met Dr. Thomas Connelly and went in for a consultation for dental porcelain veneers. The consultation was pretty cool. Dr. Connelly took impressions of my mouth, a million pictures of my face and teeth and set me up in this contraption to measure the details of my face to create an accurate simulation. I took this photo while I was there and thought I would share the experience with you all. I know a lot of people who have gotten veneers but I didn't know anything about the process.
I'm fascinated and super excited!!!! Have you gotten any porcelain veneers? How was your experience? LMK.