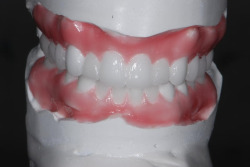 Last week, I met with Dr. Thomas Connelly a second time. This time he showed me the plaster molds he took of my top and bottom teeth (the before) and sat them next to a wax/resin build out of the new teeth (the after).
I have to say–the new teeth looked spectacular. I loved them. It was super amazing because I got to actually put the new teeth in my mouth over my real teeth to see what they would look like–another whole step I never knew existed. It gave me the chance to say "Yes I love it" or "No I don't love it and this is what I think needs to change." It was a very surreal experience to see myself with my potential new teeth. I loved the way they looked and at the same time it made me think.
That night I was having dinner and thinking about when I was a kid. Thinking about the fantasies had, wishing I could change this about myself or that about myself and believing if I looked different than I did life would be easier or I would like myself more. I was going through the whole list of insecurities I had as a kid and remembering the emotions they conjured up.
Then I started thinking about how now, as an adult, I love the way I look. I love who I am and all of the things that make me the person I have become. It made me wonder if I really want to change my teeth. I love the way my husband loves my smile–I love the way my niece says "Uncle, you're a real big laugher!" It made me start to wonder if I should mess with something I have grown to love about myself. I was definitely having cold feet.
Have you made a makeover decision for yourself and at the last minute had cold feet or changed your mind? LMK.