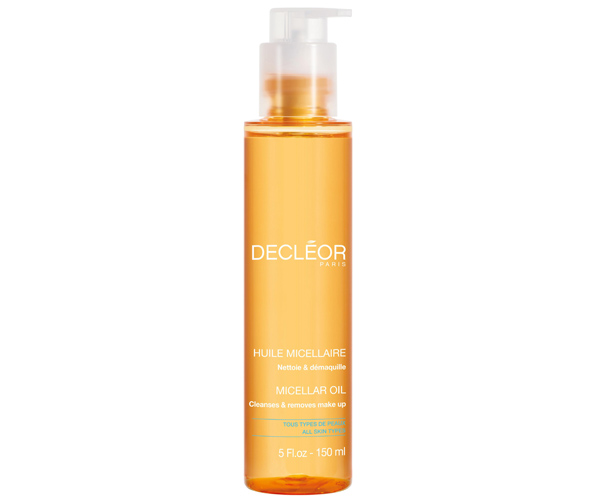 At Beauty High, we constantly have new products crossing our desks and we're always on the hunt for the next best thing. "The One Thing" is our way of sharing with you that must-have product that you absolutely need to try right now— whether it's from a drugstore or a department store.
If you're one of those people who still shudders at the thought of slathering oil all over your face, we'd like to politely give you a word of advice: Get over it!
MORE: About Face: 10 Amazing Cleansing Face Oils
Cleansing oils have been getting a lot of buzz lately, and for good reason. They combine with the oils you already have on your skin, and—as a result—remove makeup, dirt, and grime flawlessly. Plus—contrary to popular belief—facial oil doesn't make you break out. In fact, it can prevent flare-ups by removing all the gunk in your pores, which is often the culprit behind whiteheads, blackheads, and pimples.
And while there are plenty of cleansing oils to choose from, we're loving Decléor Paris' brand-new Micellar Oil, which you apply on a dry face, then slowly add a little water so it emulsifies. The result? Pristine, hydrated skin without the dreaded tightness that sometimes comes with getting a really clean wash.
What Makes It Different: 
It's the first cleansing oil that's made with Micellar technology, an ultra-sensory oil that removes even the most stubborn makeup (which it does—we first tried it after a long night out.)
It's super-gentle and works with every type of skin, from sensitive to dry.
In clinical studies 90% of women who used the oil for 21 days agreed that their face felt fully cleansed, their skin texture felt more refined, and their pores felt tightened.
It includes a key blend of essential oils like Sweet Almond and Vegetal Squalane, which is derived from olive oil.
Why it's the one thing:
If you're looking to transition your skincare to suit the impending colder, drier weather, an oil is the way to go. And if you're someone who typically wears makeup (and who among us isn't?) Decléor's Micellar Oil breaks it down and removes it fully.
Where to buy: Decléor Micellar Cleansing Oil, $33; at Decleor