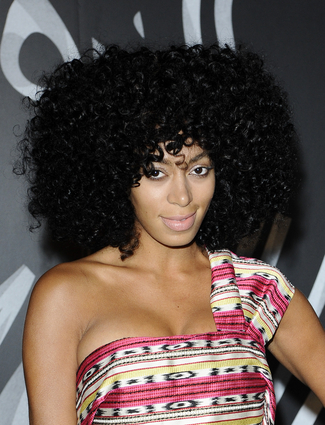 Photos: Larry Busacca/Getty Images
Beyonce Knowles may be gorgeous, super talented and have one of the cutest babies we have ever seen, but that doesn't mean she gets to hog all of the spotlight from younger sister Solange. Just like her sister, the young DJ has an impeccable fashion sense, but unlike Beyonce, she rocks her natural hair. And for that we applaud her! However, not everyone feels that way…
Formal Styles For Natural Hair
Solange was actually criticized for her natural locks by readers responding to an excerpt from an interview in Essence on a natural hair blog Curly Nikki. One reader said:
"Solange wears 'natural' wigs more than she wears her own natural and when she does, it looks dry, unstyled and unshaped. If she's truly proud of her natural look, she needs to get from under the wigs and work with her own hair. She has much potential, but she's not using it."
However, some did say positive things. One said:
"I usually don't comment but geesh! Why can't we as women just uplift one another? She's a beautiful woman. Would I rock my hair like she has it in the above pic? Probably not, but who cares?! It's her hair and she has embraced it."
Transition From Relaxed To Natural With Ease
Solange wears her hair natural because she likes it. At no time in her career has she made herself a spokesperson for natural hair. Then why the criticism? I guess this is one of the "perks" of being famous.
Do you think readers were too harsh on Solange's 'do?