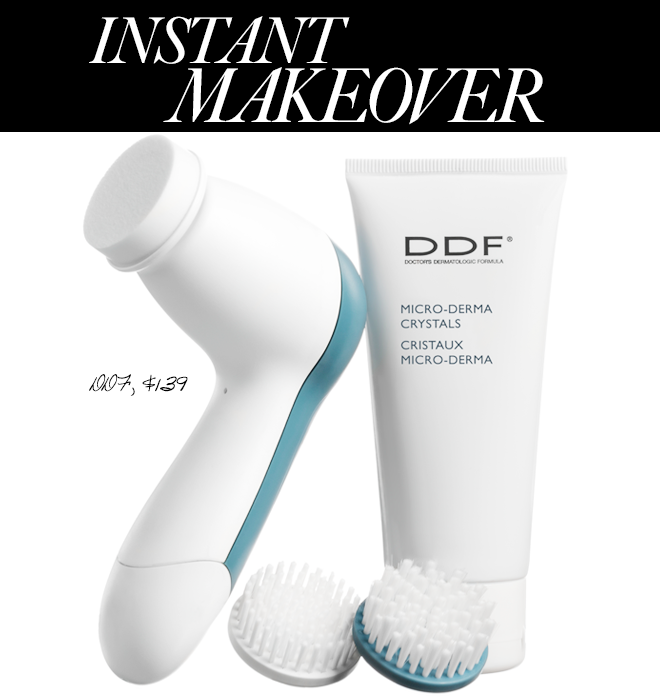 Occasionally we come across a product that bestows an immediate glow, changing our look (for the better!) in an instant. Since we'd be remiss to keep them to ourselves, we highlight these genius finds in our Instant Makeover series.
It's rare to see immediate results from a new skin care routine (most need a six to eight week commitment, at least), but when I tried the new DDF Revolve Professional 500X ($139, available later this month at ddfskincare.com), I noticed a change after a single one-minute cleanse.
I'm not usually one to stray from my skincare regimen, but since the system comes with two cleansing brush heads — delicate and regular — and three intensity settings, I was able to start off slow. I set the 360-degree rotating brush on the lowest setting for a gentle deep cleanse. When it's time to switch areas to clean, the brush lets you know by pausing, delivering a perfectly timed 1-minute routine.
Immediately after use, my skin was a bit pink, but I soon realized it was thanks to the deep cleanse. I could actually see the reduction in my pores and feel the over-all smoothness only moments later. I now use the cleansing brush about every other night before bed so I can clean the city grime off my face and wake up with clean fresh skin to start my day.
The foam disc attachment, when used with the included Micro-Derma Crystals, gives skin a deep exfoliation through microdermabrasion. It's perfect for a once- or twice-a-week intensive treatment. The best part? If you're not sure how to incorporate the tool into your routine (daily? once a week?), the experts at DDF will customize a regimen for you either online or in store.
Read more: Skin Mistakes That Make You Look Older