We knew the day would come when DD creams entered the picture. DD — standing for Daily Defense or Dynamic Do All Cream, depending on the brand — takes the multi-tasking product trend one step further by providing more coverage and skincare benefits than the previous BB and CC creams. Now that there are two on the market, I decided to put them to the test.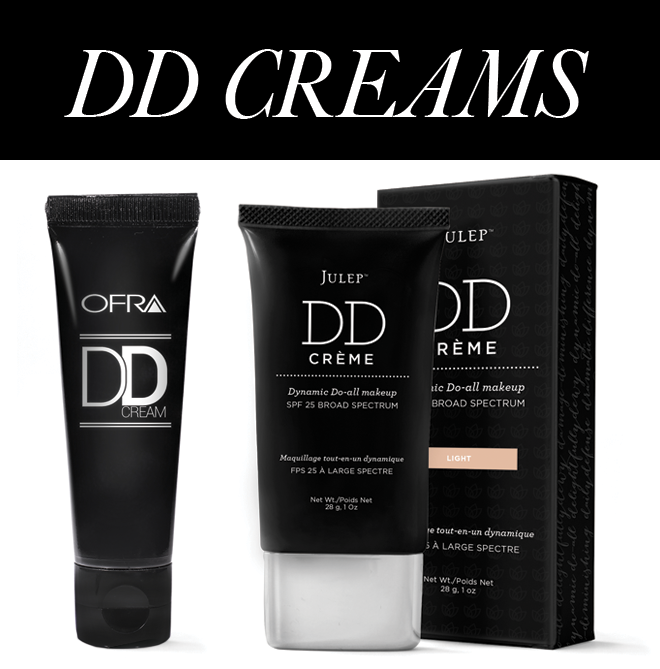 Julep DD Crème ($36, julep.com)
After getting its start as a nail polish brand, Julep has recently entered the color cosmetics world with mascaras and lipsticks. Their SPF 25 DD Crème that launched this past May was their first foray into skincare.
The good: I'm impressed with the formula's full, dewy coverage. Other benefits include hibiscus and olive extracts that hydrate the skin, antioxidants that protect against free radicals and Granpowder Lumiere Powder, which scatters the light to help conceal wrinkles. Available in four shades, it has a fairly good array of options that even includes a Dark shade.
The not so good: DD crème alone doesn't offer enough coverage for redness, blemishes or undereye circles. That's where the Julep DD Concealer ($32, julep.com) comes in. Its thicker formula covers these problem areas while blending evenly with the DD creme. However, doesn't this defeat the "Dynamic Do All" idea?
OFRA DD Cream ($30, ofracosmetics.com)
OFRA is an under-the-radar brand that offers both cosmetics and skincare products that deserve to be discovered. (Their bright eyeshadows are highly pigmented and gorgeous). They recently released their DD cream and it's available in a whopping 10 shades, including ones for darker skin tones.
The good: The formula is a bit thicker than Julep's, offering coverage similar to that of a tinted moisturizer. Aside from color, the formula hydrates, brightens and protects with a blend of antioxidants, vitamins and proteins.
The not so good: Shade #02 is the lightest of the full coverage shades. For my fair skin, I had to opt for the DD cream in Glow, which is lighter in color but also more sheer. Containing pearl ingredients, it works like a highlighter for that glowing effect. I like more coverage so I use it as a dewy finish over coverup. But for a day on the beach when you want that barely-there look, this cream is perfect. Make sure you apply sunscreen first, because this formula doesn't contain SPF.
So what makes DD creams so different?
In a word — nothing. The great (and sometimes frustrating) thing about the beauty industry is that there are so many options. DD creams are yet another line of products to choose from for the woman who's always in a rush. If you want full coverage and anti-aging benefits, try the OFRA DD. If you want a lighter, dewy finish that hydrates and protects, swipe on the Julep. Both don't satisfy your needs? There's always a long line of BB and CC creams waiting on store shelves.
Read more: The Best BB Creams For Your Skin