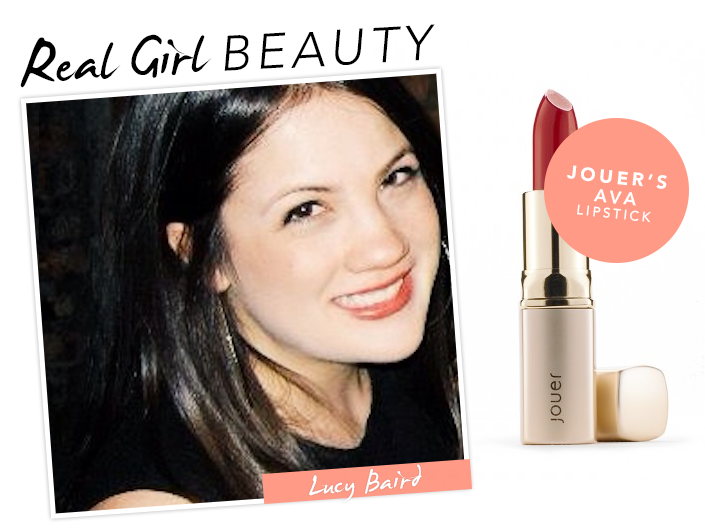 Going backstage and learning tips and tricks from the professionals may be an adventure, but sometimes, the best tricks come from real girls. In "Beauty and the Real Girl," we learn the best beauty tips, tricks and secrets from girls just like us.
One mark of a great beauty product is its ability to multitask. Whether it's something like a stain that you can use on your cheeks and lips, or something like coconut oil that has countless weird uses, beauty products that we can rely on for more than just one function are phenomenal. When you find that lipstick that you can wear all day — and all night — you've hit the beauty jackpot.
Lucy Baird, Associate Manager, Merchandising and Marketing at Birchbox and the girl behind TheNewHostess.com, has found her holy grail. Although her beauty routine is pretty laid back, she's not afraid to add a little drama to her look.
MORE: Lipstick Colors: 8 Shades to Try This Season
"My makeup routine is pretty simple: Mascara, bronzer, and a swipe of red lipstick! I'm obsessed with every shade from Jouer's Perfect Red Collection but my current favorite is Ava, a pretty ruby with a super flattering subtle orangey tint. It's the perfect pop for both day and night!"
The trick to finding the perfect shade is getting a color that isn't too dark for the daytime or too bright for a night out. Lucy definitely found her perfect shade, and has inspired us to find our own!
Where to buy: Jouer Perfect Red Collection Hydrating Lipstick, $22, Birchbox.com