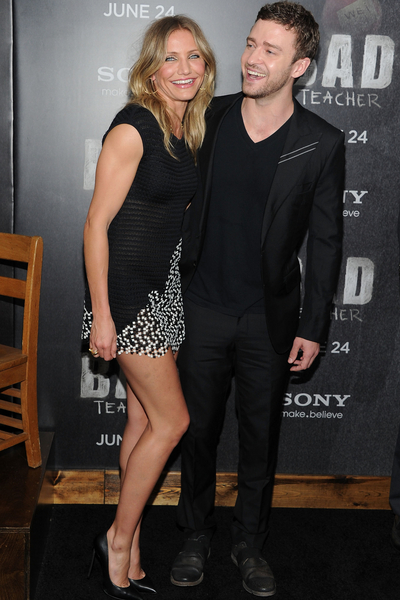 Photo: © Jason Kempin/Getty Images
Awww, how cute do Cameron Diaz and Justin Timberlake look at the premiere of their new movie Bad Teacher? They look so happy, so carefree, so in love. Wait–didn't they break up like four years ago?
Apparently for J.T. and Cam, palling around (and working) with your ex isn't weird at all. Plenty of other stars agree: Drew Barrymore and Justin Long, Demi Moore and Bruce Willis, and Vanessa Hudgens and Zac Efron are just a few celeb couples that have hooked up, broken up and now hang out.
Let's put this into perspective for you: Imagine your ex. Now imagine going to work every day with this person. If that wasn't torturous enough, now you want to prolong it by grabbing a drink with them. This will give you the opportunity to talk about fond memories of your relationship, like his weird porn habit, or your tendency to get sloshed on red wine and rage about his commitment issues. Are we having fun yet or what?!?
It's not that we don't think you should stay on good terms with your former flames; we just don't think you should prance around in a sheer dress and manhandle them every chance you get.
This person has seen you naked and now that you're no longer together, it's unclear what you're supposed to say when you run into each other at a mutual friend's party. It's not like you had a lot of deep (fully-clothed) conversations in the first place, so why would you want to get together and rehash the epic failure that was your relationship on a regular basis?
What do you think, is hanging out with your ex totally acceptable or just plain weird?


Try on Cameron Diaz's hairstyles in the Makeover Studio!