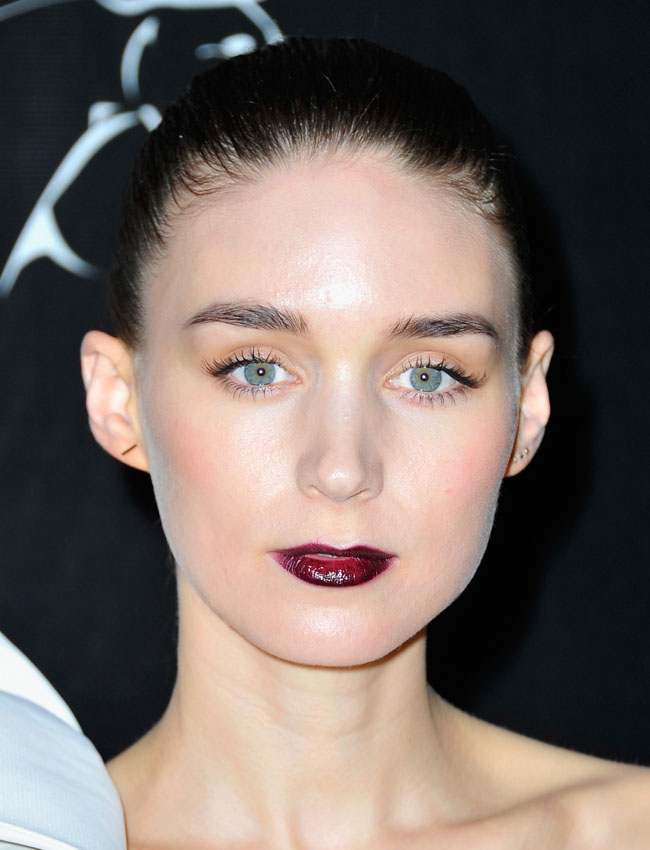 If you're an everyday wearer of lipstick, you know classic red can get tiresome. For nights (and days) when you want to switch up your look, adding a dark lipstick is truly the way to go. But don't let that bold color intimidate you. Follow these five guidelines for a sexy, non-scary approach to the winter trend.
1. For thinner lips, use a stain.
An old beauty trick: fake voluminous lips with a light lip color. The opposite is true of dark lipstick. For thinner lips, use a lip stain in berry or wine that adds a smaller dose of pigment. You can also replicate this by using your fingers or a lipstick brush to dab the color in place.
2. Find the right shade for your skin tone. 
Just like any other lipstick family, you want to find the right shade for your complexion. Darker skin tones can pull off purplish hues while lighter complexions should opt for berry shades. Those with cool tones should veer towards blue-based shades while warm tones are complemented by brownish shades.
3. Prep before applying. 
For that rich color, dark lipsticks need a higher concentration of pigment. The more pigment, the dryer the lip becomes after wear. To create a velvety moist finish, remove dry flaky skin with an exfoliator like Merle Norman Lip Exfoliator ($15, merlenorman.com). Apply with gentle pressure and brush off with a tissue. With beeswax and jojoba oil, the exfoliant also helps to moisturize.
You can also use a clean toothbrush to swipe away any flakes. Finish prepping with a thin lip balm to moisturize.
4. Always have a perfect outline.
The more pigmented a lipstick, the more precise it must be. When applying a dark lipstick, make sure to start with a lip liner, outlining around the lips and coloring in to create hold. To minimize any bleeding along the edges, apply a small amount of concealer to a thin brush and draw around the lips.
5. Keep it light on the rest of the face.
With such a bold lip color, you want to keep the rest of the makeup as neutral as possible. Go light on the eye shadow and eyeliner, but do play up the lashes. Nothing pairs better than a bold lip and luscious lashes.
Read more: Why Every Woman Should Use Lip Liner