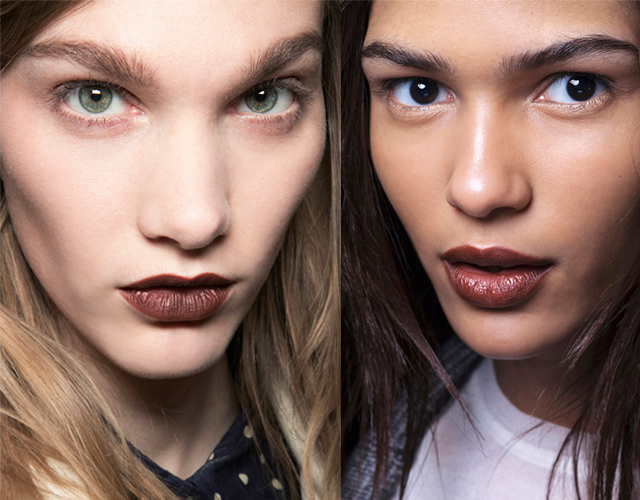 Let's face it: dark lips are all the rage for fall, and we can't get enough of them. Although this new take on the gothic classic is a bit more romantic, it's still a beauty look with impact, which means you want to get the look down pat so all goes well.
When it comes to tips and tricks for this gorgeous lip look, we reached out to one of our favorite lip mavens, Sarah Lucero, Celebrity Makeup Artist and Global Creative Director for Stila Cosmetics. She created a flawless version of this lip backstage at fashion week last season, and we wanted to share her tips on how you can get the same gorgeous look.
Even it up:  "There are a lot of great lip exfoliators out there, like Fresh Sugar Lip Polish. If you feel like you have really flaky lips, I would try to gently exfoliate them, but if it doesn't work the day you want to rock your dark lip, it's okay: go with a glossy dark lip color. It will hide some of that flakiness."
MORE: Fall 2013 Trend Report: 12 Trends to Get You Through the Season
De-fuzz your top lip: "You should also make sure that there's no hair on your upper lip. You have no idea what attention – and the wrong kind of attention – that dark shadow brings to your mouth. Also, if the lip color catches any of those little, tiny hairs? Forget it, the look is just not good. They look like levitating dots. So wrong."
Start with good base-ics: "The best way to prepare your lips for wearing a dark color is to keep them in great shape, which means keeping them moisturized. A great lip balm is essential, but try to get one that's not too glossy because if you use it as a base under the lip color, it'll sheer the color out or cause it to slip past the lip line., Go for balms that are more matte, like Burt's Bees Lip Balm. I use that a lot to prep the lip for dark color; the matte finish is perfect."
Go for glowing skin:  "You also have to spend a minute to perfect your skin, which is something a lot of people tend to forget. If your dark lips are competing against blotchiness or redness on the chin or nose, it just doesn't look as fresh.  Look for a good BB or CC cream (I used a lot of Stila CC Color Correcting Cream with SPF 20 backstage) or tinted moisturizer that will help you achieve a glowing, even complexion. It will help the dark lip stand out as bolder, cleaner and with more impact.
MORE: Research Proves Bold Lipstick Makes You Look Younger, Do You Agree? 
Find your best dark lip hue: "I love that kind of merlot/cabernet more purple based color on fair-to-medium skin; it gives you a vintage, vampy, renaissance look (I used Stila Stay All Day Vinyl Gloss in Merlot backstage at alice + olivia.) If your skin is more olive, go with more of a mahogany/terra cotta underlay to the color, like a deep burgundy. If you have very deep skin, I love the merlot color but I tend to mix in a very tiny amount of black or brown from our Smudge Pots to give the color depth and impact when I'm doing makeup backstage. It looks unbelievable on women with deep skin tones because their lips tend to be super dark, so by adding just a little black or dark brown you get a deeper look that helps those women just shine. Stila Color Balm Lipstick in Brigitte is more of a color balm, and mixed with brown or black eyeliner it'll also give women with deep skin tones that gorgeous, perfect lip color."
To line or not to line? "If it's a vinyl, high-shine lip, it's not too glossy or creamy so it'll stay put without using liner. However, if you feel more comfortable with the idea of a lined lip, I would maybe get a lip brush and then perfect the look around the lip using just the product itself, or get a wine or blood-red-rose hued lip liner and perfect the lip. I think it's good to have one, but don't depend too much on lip liner. The key is that if you're using a matte color, you can use the pencil to smooth and perfect the look, but if it's glossy, you'll want to apply the liner first to give the lip color hold and definition."
Bonus round: how to properly apply lip liner!  "Get a natural lip pencil that mimics your natural lip tone. Sharpen the pencil, and then apply it with the side of the pencil laying on the lip with the tip facing upward. If you use the side of the pencil to sketch in the hue, you'll get a broader line that will look more natural. Use shorter, sketching strokes instead of a hard line. You also don't have to line your whole mouth; you can just do the corners of your mouth to enhance your own natural lip line.  The goal is to reshape your mouth and to help the lipstick stay in."
Image via Imaxtree