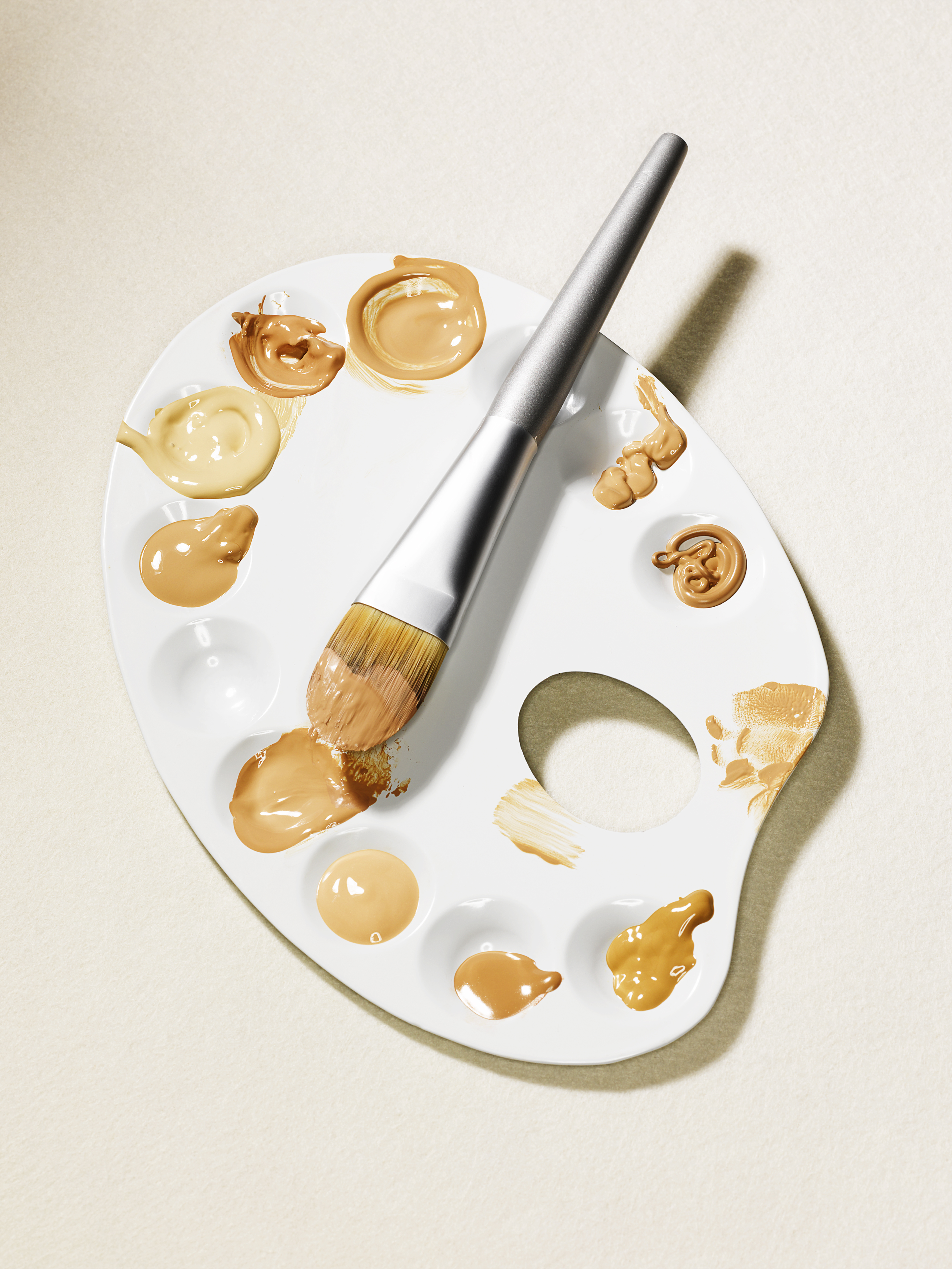 The guessing game days of randomly selecting foundation at the drugstore and hoping it works with your skin tone are over. Instead, custom blend foundation services are popping up everywhere —on the web, at the mall, and at the spa. Not only do we all demand precise matching from the tiny bottle we greet every morning, but we want the extras, too. Things like a matte or dewy finish, , skin-protecting Vitamin E, even a "candlelight glow" option. We talked to a few experts from the custom blend foundation services to get a better handle on the situation. Read on!
Janet Curmi, Vice President of Global Education at Elizabeth Arden Red Door Spa says of the growing trend: "More and more, today's women seek the 'perfect fit' with customized products that speak to her individual needs and preferences. Custom Color gives every woman what she wants: a foundation perfectly matched to her skin color and Elizabeth Arden's exclusive technology creates just that."
But just how does it work?
"The Custom Color optical skin diagnostic tool (spectrophotometer) analyzes the skin's depth of color and tone, and calculates the data to create an individual formula. Within minutes, a touch of a button dispenses the foundation, blended to smooth perfection," says Curmi.
Curmi says: "CCF can be customized by skin type (oily, combination, dry), as well as preference for coverage (sheer, medium, full) and finish (natural or matte) and each Custom Color Formula includes moisturizes for dry skins, mattifiers for oilier skins and skin-protecting Vitamin E. It's fragrance free, dermatologist and allergy tested."
If you don't have time to get a color consultation in the flesh, consider the online alternative—Prescriptives Custom Blend. This service, via Precriptives.com, is the next best thing considering you can chat with their "Beauty Geniuses" in front of a web cam to restock your foundation supply.
Beauty Genius Erica Bishop says of the Prescriptives experience: "The consultation is a free service that allows the customer to upload photos directly into the video chat portal and talk to a Prescriptives Beauty Genius for 20 minutes about what you like and don't like about your existing foundation or powder. First and foremost, the consultation will determine if you are a true Custom Blend candidate. One of our existing 'over the counter' foundations or powders might work perfectly for you. Otherwise, we work with you to create your own Custom Blend recipe. It's then registered to your user profile on Prescriptives.com indefinitely so you can order it."
MORE: 10 Things No One Ever Tells You About Foundation
Now back to those "extras" we mentioned earlier…
"We're also not just matching foundation or powder color. We're identifying the skin's specific undertones—warm or cool—and creating a Custom Blend Foundation or Powder to address that. We also offer skincare add-ins like oil control, added moisture and more, as well as your choice of finish, like "candlelight" for the glow that a lot of women want these days. We have matched the lightest and darkest skins with all types of undertones since we have 7 base levels and work from there," says Bishop.
So, just how much will this custom color cost you?
Bishop says: "Custom Blend foundation is $75 and powder is $55. Each order comes with a complimentary travel size version as well—you can't travel without your prescriptions!" $75 to skip a checkout line situation and a streaky, wrong shade mess? Count us in.
Image via Adrian Burke/Getty Images