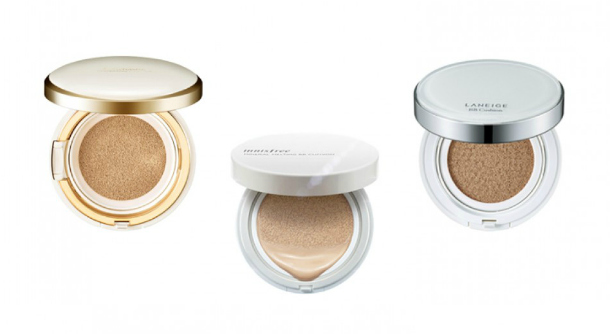 It's official: cushion compact foundations are the beauty revolution of the summer. A liquid foundation that offers natural, lightweight coverage is already amazing—but when it comes in an easily transportable compact, we're even more obsessed.
You might be tempted to believe that cushion compacts are brand new inventions, but the truth is that they've been selling like crazy in Korea ever since 2008. Though they've been available in the US for a few years now, it wasn't until Lancome released their Miracle Cushion Foundation ($46.50) early this summer that they went truly mainstream. In fact, we think that cushion compact foundations are shaping up to be the next BB creams—game-changing products that totally transform the beauty landscape. Here's everything you need to know about these next-level foundations before you make the switch—and trust us, you will!
Cushion compacts: how do they work?
Our first thought on hearing about these was something like liquid foundation…in a compact? How does THAT work? Turns out that it's actually really simple: the foundation itself lives inside the cushion at the bottom of the compact, which means that there's zero chance of spillage. To dispense it, you simply press the soft sponge applicator onto the cushion, which gives you the perfect amount of product. Unlike the concealerlike solid compact foundations you may remember caking on your face in high school, cushion compact foundations as a rule offer coverage that is buildable, but supremely lightweight.
You control your coverage.
This product seriously is foolproof. "The formula just lightly covers the skin to perfection and you can easily layer on areas that need more coverage," says Sandy Linter, celebrity makeup artist and Lancôme's Beauty at Every Age Expert. Simply press, or 'stamp' as Linter likes to call it, the applicator into the sponge, then pat it on your face. Stamp a little extra over any areas that need additional coverage—we like to use it under our eyes in place of concealer, as many cushion compact foundations really resist sinking into lines. 
Touchups are SO EASY!
Reapplying foundation has always been a hassle. It takes forever, and unless you're a total pro, the finished product ends up looking cakey. With a compact cushion, you just press and pat, press and pat, moving from the center of the face, out. "This formula combined with the unique application technique blends flawlessly and easily," says Linter. "There is never any line of demarcation."
It's the perfect way to reapply SPF.
Although Lancome's formula doesn't offer UV protection, many of the others do. Amore Pacific (AP), the company that owns Hera, Iope, Amore Pacific, Laneige and Etude House, launched Iope Air Cushion ($47.50)—the first SPF-containing cushion compact—in response to women's need to reapply SPF and makeup on the go without having to start over. Now you can successfully reapply every two hours (the standard recommendation for sunscreen) and stay protected from the sun!
The sponge and applicators are the best.
Say goodbye to your days of using a sad : since so much about brilliant foundation wear is in the application, The sponge (which holds the product within the compact), and the applicator (with which you apply the makeup to your face) are created using anti-microbial materials to ward off the bacteria that would normally flock to such a moist environment. The applicator will even last as long as the foundation, says Christine Chang, the co-founder of Glow Recipe and a huge fan of Hera UV Mist Cushion SPF 50 ($45). "Yet while the applicator is anti-microbial, it's recommended to wash it with warm water and soap once a week and leave it in a well ventilated place to dry."
More from Daily Makeover: 5 Unexpected Places You Should Apply Highlighter