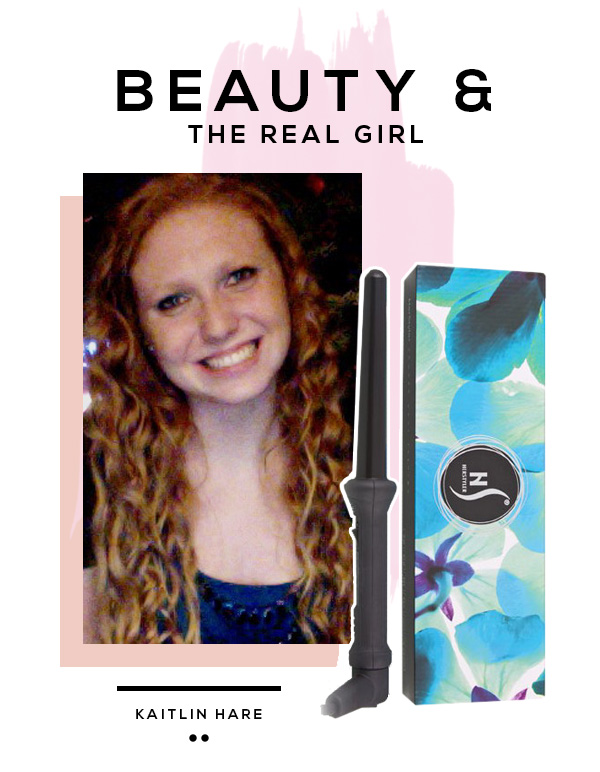 Going backstage and learning tips and tricks from the professionals may be an adventure, but sometimes, the best tricks come from real girls. In "Beauty and the Real Girl," we learn the best beauty tips, tricks and secrets from girls just like us.

Sitting down to curl your hair goes completely out the window when you're struggling to get out the door and to your event on time. We've all been in the situation where we've had no choice but to let a "purposefully messy" topknot take the place of our plans to show up with Alessandra Ambrosio-like waves. And when your curling iron takes 15 minutes to heat up to the proper temperature (coincidentally, the time you have to be in route by) the hairstyling options can seem slim. Since this situation tends to happen more often than not, and we know that a decent wand is essential in creating flawless waves, we're always on the lookout for gadget-y tools to add to our collection.
We were shocked and intrigued when we heard about Kaitlin Hare's luck with a fast-acting wand. Kaitlin says that her HerStyler curling wand heats up in barely no time at all (major plus), quickly transforming her slightly wavy hair into tendrils or tousled curls in minutes. Sounds like she's found the good hair day secret we've all been waiting for.
MORE: Long Hairstyles to Ask for at the Salon
"Having hair that is not curly or straight really creates a dilemma when time is tight and I need to be somewhere looking presentable. When the 'just rolled out of bed' look won't work, the HerStyler curling wand really comes in handy. It heats up practically instantly and can give your hair beachy waves in minutes. It definitely helps when you're trying to have a cute night out with a time crunch to get ready."
Where to Buy: HERSTYLER Grande Curl Tourmaline Curling Iron, $80, beauty.com