When Emma Watson signed on to play Hermione Granger in the Harry Potter movies at the age of nine, she signed a contract in which she agreed not to cut her long hair until the final movie in the series was finished. This past summer, shooting wrapped on Harry Potter and the Deathly Hallows, and Watson headed straight to the salon to do something she had long dreamed about: chop off her long locks. "I've wanted to do this for years and years," the actress shared on her Facebook page, "It's so liberating!"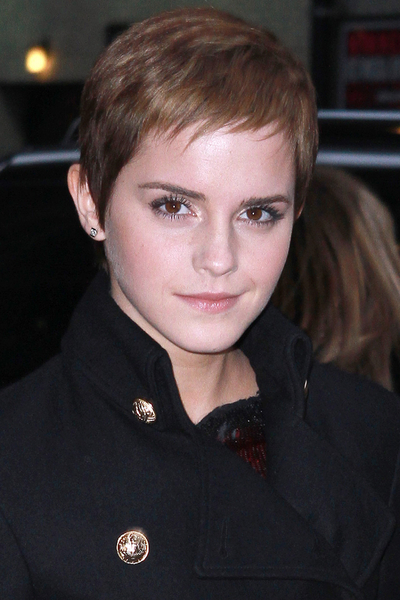 Photo: © Donna Ward/Getty Images
Watson's pixie is not entirely revolutionary – Mia Farrow first made waves with the cut in Rosemary's Baby in 1968. In fact, several young actresses have brought the hairstyle back in the past year: Carey Mulligan and Mia Wasikowska both cut off their hair after their first big roles. On the right person, a pixie cut can be chic, sophisticated and relatively low maintenance; however, there are several factors to consider. We asked celebrity hairstylist Rodney Cutler, the man behind Emma Watson's charming cut, what you should know before you go in for a crop.
1. What are the most important things to consider before getting a pixie haircut?
The most important thing to consider before getting a short hair cut is that you have to be emotionally ready for short hair.  If you don't wear the cut with confidence, no matter how good of a cut, it won't feel right.
2. Which face shapes are most suited for this hairstyle? Which face shapes are least suited?
The ideal face shape for a short cut is oval, and the least ideal is a square forehead, square jaw and square head. A short hairstyle can still work on all face shapes, but it is critical that it is customized to work with your face. This may mean leaving the hair a bit longer at the nape for a round face shape or having a sweeping side bang to soften a square jaw.
3. Which hair textures work best with crops?
The beauty of a crop is that it works on all textures, dead straight to curly hair. On hair with more movement it will have a more textured feel, like Halle Berry's short hairstyle.
4. What are some fun ways to play around with going short so you'd have more than one hairstyle option?
It's important to maintain simplicity and that the style looks consistently good every day. The downside to this is that your styling options are limited. So, by adding more texture, creating a defined low side part, or slicking the hair down are a couple of styling variations, and adding some dimensional color is another way to ease the boredom.
5. What styling products should you have on hand if you decide to go super short?

Then number one styling product you must have is Cutler Molding Putty. If you want more texture use Redken's Wool Shake, and for a slick, shiny hold use Redken Velvet Gelatin.
6. If you get a pixie cut and don't like it, what's the average length of time it takes for the cut to grow out, and what are some in-between hairstyles you can do?

Once entering the pixie world, the grow-out phase lasts about six months. I recommend taking it a little slower to get the length back so you can avoid the hideous no style period.
7. How often would you have to go in for trims and general crop maintenance?
There is definitely more maintenance with short hair. If you have hair that is below your shoulder and take an inch off you won't see much of a difference, but with a short cut an inch of growth makes a huge difference. I recommend getting a trim every five to six weeks.
Think you're ready for a crop? Cutler says that clients should bring in pictures of their favorite cut/hairstyle so the hair stylist can get visually inspired. "A picture can tell a thousand stories and ensure both you and your stylist are on the same page. The most important thing to remember is rather than picking a short cut that is trendy at the moment you need to be emotionally ready for the big change!"  
Check out the Top 10 celebrity crops!

Try on Emma Watson's chic crop in the Makeover Studio!