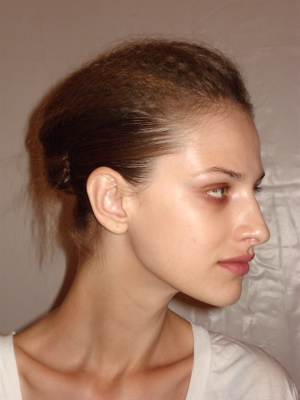 Souleiman's alien-esque, helmet hair creation.
It was an out-of-this-world beauty moment backstage at Narciso Rodriguez where models rocked an extraterrestrial hairstyle courtesy of Wella Professionals Global Creative Director Eugene Souleiman.
Souleiman got the idea for his "cycling helmet meets alien" hairstyle from a doodle of the designer's he saw lying around. "I loved the silhouette of the the drawing and thought it would be neat to borrow that shape and mess with the texture a bit," he said.
To create the look, Souleiman divided hair into three sections — two on the side and one in the back — leaving the front and top of hair loose. He sprayed hair with Wella Liquid Hair Crystal Styler, then took the sides and back section and braided it all together into a tight braid. He rolled the hair underneath itself to create a flat bun that would help support the shape of the updo.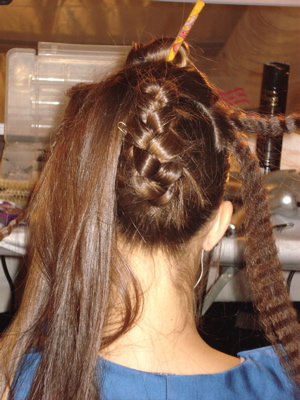 The updo takes shape…
The front and top sections of hair were crimped using a large crimper and then brushed back and pulled into a loose ponytail whose base was right at the top of the bun. The hair in the actual tail was then draped to create a kind of curtain of hair over the bun. The ends were pinned in place so it almost completely concealed the braided bun beneath it and created an exaggerated, stuck-out silhouette.
Shiseido Artistic Director Dick Page concocted a unique makeup look that helped bring the alien-esque updo back down to Earth. Working with what he called a "backwards makeup look," Page started off by using a fluffy brush to apply the dual phase The Skincare Instant Eye And Lip Makeup Remover all around the edge of the eye and over the lid. He then blended Luminizing Satin Eye Color in Squirrel and Cavern (two new shades for spring) to create a warm toffee brown that he applied thickly around the eye, keeping it close to the upper and lower lashlines, and onto the lid. By layering the shadow over top of the oily makeup remover, he created a finish that was dewy and a little "scrubby." Page chose not to use liner or mascara, instead opting to leave the eye smudgy and "dirty looking."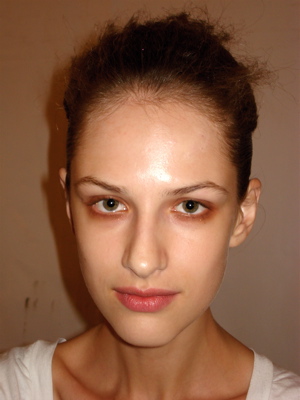 The final look.
On the lips he created a "sweet but a little flat" lip look by blending two shades of Perfect Rouge Glowing Matte lipstick, a new product for spring. He used a brush to apply the pinky Whisper shade, then mixed the brownish Wink shade on top, ending up with a pretty mauve lip that had a soft matte finish.
Skin was kept as clean as possible with Page only using foundation if absolutely necessary and even then sparingly. Cheeks were also left free of color. "I don't really care about the trends," said Page, "I want it to feel right. This look really works to tell a story and makes sense with the collection. It's supporting the beautiful face that's already there."