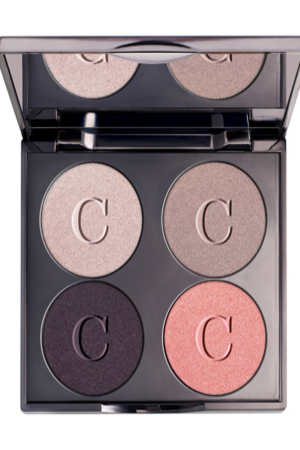 'Tis the season for fun holiday makeup that sparkles and glows! I'm currently obsessed with the Chantecaille New Classic Palette. This quad of goodness contains three universal eye shadows and a blush that works perfectly on any woman's skin tone, from the fairest of fairs to the deepest of darks.
The palette allows a quick and easy way to update your makeup from everyday to holiday in a flash. There is a glimmer in each hue that kicks the party up a notch and adds glamour to your overall look this time of year.
Silver – This shade looks incredible on both fair and darker skin when swept across the lids and paired with a black winged liquid liner. Add a few coats of black mascara, and you're good to go!
Gold – For olive, mocha and darker skin tones, the golden shade is your best bet. You can pair this look with a red or wine matte lipstick for a beautiful balance.
Eggplant – This deep shimmering color can be used as a jewel-toned eyeliner. Use a flat angle brush to pick up the color, and then smudge it along the upper lash line in a soft stroke, flicking it at the ends into a little wing. You can also blend it across the lids by moving the brush up and over the crease and under lower lashes for a new twist on the smoky eye classic. If you use it for a smoky and sultry look, pair it with a nude glossy lip, so you don't overpower the face.
Blush – The shade is sheer enough that you can simply sweep it lightly over your usual daily blush to intensify the cheeks and create a more radiant look.
So go on and celebrate the new holiday, and have fun playing with some new shades!

Find your holiday look in the Makeover Studio!
As an established makeup artist, many beauty brands send me samples of their latest products for consideration. I only write about the items that I truly love and I always abide by Daily Makeover's Editorial Ethics Pledge in each of my Positively Beautiful posts.