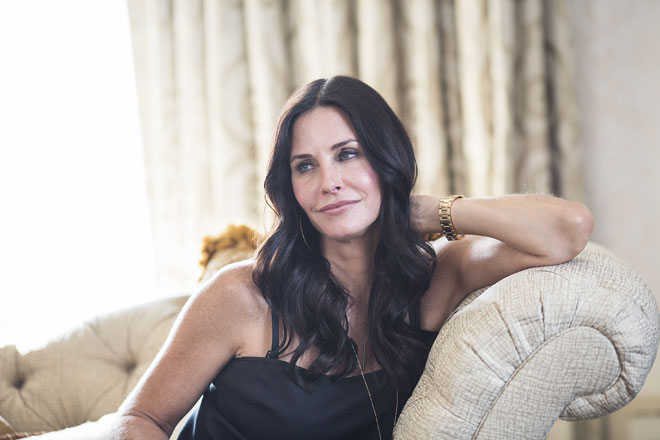 Many women feel the pressure to go for a shorter hairstyle as they get older. Not Courteney Cox. She may have put the short shaggy bob on the map during her days on Friends, but today the Cougar Town star is a hair icon for the over-40-year-olds who refuse to give up the allure of long sexy hair. "I love my long hair and I don't feel any pressure to go short," the 48-year old actress told us. "It makes me feel sexy and is part of who I am. I don't think your age should define your hair. It's the other way around. I'd feel like a different person today if it wasn't like this," she said.
For those of you who've loved Cox since the 90s, you may find that you have the same hair complaints as she does, although you'd never know it from the looks of her shiny, bouncy black locks. "My hair has been through many transformations and it gets styled constantly. I've definitely noticed that as I get older, I see more breakage, it feels drier, and I get more grays," she said. So how does she keep her hair looking so enviably shiny and healthy, and yes, commercial-worthy, literally? "When I started using the new Pantene AgeDefy haircare line, I instantly noticed a difference. It really has turned back the clock with my hair. Then I tried Advanced+ Keratin Repair and now my hair feels so much smoother and more manageable," said Cox, who is now Pantene's newest celebrity ambassador for these two new Expert Collections which address the needs of both aging hair and extreme hair damage.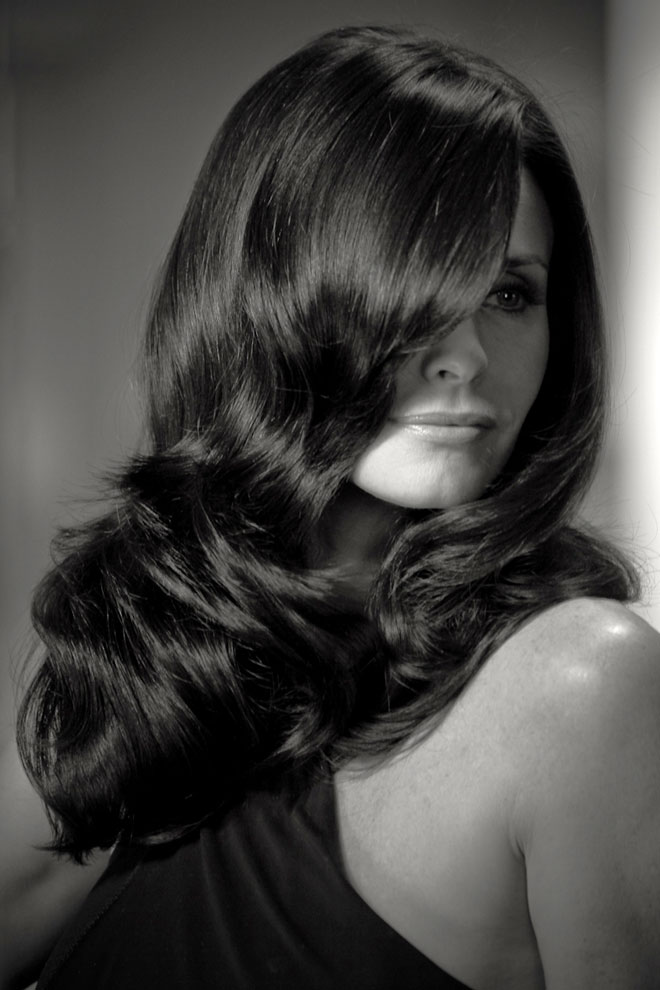 Her absolute favorite product of the whole collection: Pantene AgeDefy Thickening Treatment ($18.99, drugstores) which was created in collaboration with Olay scientists and uses anti-aging skincare ingredients, like caffeine, niacinamide and panthenol, to improve the strength, luster and thickness of hair. "I use it every morning and can really feel a difference in how thick my hair is now," she said.
As for scoring a big beautiful blowout like hers? "My hairstylist Chris McMillan taught me how to use a big round brush and over-direct the hair as you blow-dry," she revealed. To do: Wrap a large section of hair around the brush, then pull it in the opposite direction that you want your hair to fall as you blow-dry. This way, once it's dry, your roots will have lots of volume and bounce. "In real life, I actually just like to have wash and wear hair, and the healthier it is, the easier it is to style on my own," said Cox.
And of course we had to ask: Do you ever use hair extensions for a little boost? Doesn't everyone in Hollywood fake it a little bit? "No, I hate the way they feel!" she said.