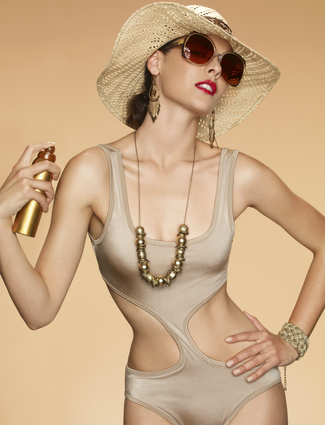 Photo: Oppenheim Bernhard/ Getty Images
In a controversial murder trial that began this week, a man accused of strangling his wife is pointing the finger at something else: spray tanner.
Five years ago, Florida native Eleanora Kaufman was found dead on her bathroom floor and her husband arrested for the crime. Adam Kaufman's lawyers said he had nothing to do with her death. In fact, they will argue that the victim had a violent reaction to a spray tan, then fell on a magazine rack and choked to death, ABC News reports.
Self-Tanner Causes Weight Gain?!
Bill Matthewman, Adam's defense attorney, "also said the spray tan could have contained arsenic or some other accidental poison," ABC added. All of which could have resulted in Eleanora's death.
Here's what's freaking us out: if Adam is innocent–which Eleanora's family and friends say he is–then self tanner is responsible for killing someone. While we're trying to be responsible about sun bathing, could a spray tan could be doing just as much, if not more, damage? Details have not been released yet on the brand of the spray tan, and whether she did it at home or in a salon booth.
We'll be following this case closely, so follow us on Twitter @dailymakeover for the latest updates on the spray tan defense.