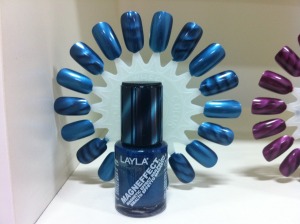 Layla Cosmetics Metallic Nail Polish
Hello from fabulous Las Vegas! I'm here covering Cosmoprof North America, the world's largest beauty trade show. It's where brands go to launch their latest and greatest new products. There are literally hundreds of different booths here, with everything from new spa machines that zap cellulite, to high-tech skin care lines that utilize the hottest new ingredients.
I'll be spending the next three days roaming the floors to bring you the news on what products are going to be hot for 2012.
Today's spotlight brand is from an Italian company called Layla Cosmetics. They specialize in cool and innovative nail polishes. The first thing that caught my eye was their Ceramic nail polish, which boasts a super-shiny finish and you don't have to use a base OR a top coat with it. It's the ultimate lazy girl manicure!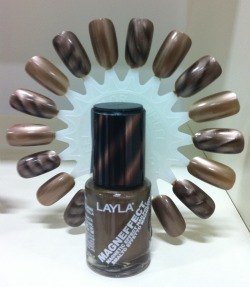 The Golden Bronze shade, my favorite!
But the polish I couldn't get over was their magnetic lacquer. It goes on like a normal nail polish, but when you pass the attached magnet over top of the wet polish, it creates a marbleized effect! The polishes each contain an iron powder in them, so when the magnet goes over them, it pushes this powder around, resulting in the blended look.
I've seen magnetic nail polish before, but they either didn't work properly or were too difficult to use. What I love about this one is that the results are very noticeable and the magnet comes attached to the cap, so you don't have to buy a separate component.
The polish comes in 12 shades (I'm dying over the golden bronze shade) and is not yet currently available in the US. The brand is still looking for a retailer to carry it, so stay tuned.
That's all for today, but check back tomorrow to see more cool new products from Cosmoprof!