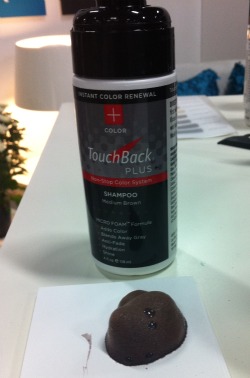 Touchback's new foam shampoo, which provides
temporary color for your hair.
Hi everyone! Sadly, today was my last day at Cosmoprof. Sad, I know. I had so much fun checking out all of the cool trends and products that are coming to shelves in 2012.
I also had an amazing time with my fellow bloggers: BellaSugar, ClioMakeup and Tempatlia. We all had a blast hanging out, sharing tips, and talking all things makeup.
It was actually Clio that led me to today's product find–a color-depositing shampoo, conditioner and leave-in treatment from TouchBack.
Clio and I had been chatting about hair dye and she mentioned how she wanted to try out being a redhead, but didn't want to commit to a semi-permanent or permanent hair color, just in case she didn't like the look. She asked me if I knew of any dyes that would wash out after just a few shampoos, and I honestly could not think of anything that would fit the bill.
Later that day, I strolled by the TouchBack booth. They are well known for their root touch-up product, but this is the first time they've ventured into all over hair color.
Their new Non-Stop Color System features a foaming shampoo, creme conditioner and foaming leave-in conditioner, all of which deposit color into your hair that will last for up to two shampoos. It's perfect for use in between your regular salon visits and is free of harsh chemicals like ammonia and peroxide, so it won't damage your hair. They even offer color-free versions of each product, so if you love the formula, but don't need to deposit color, you can still use the system to help nourish your locks and keep your existing color from fading.
While the line cannot lighten dark hair, it is ideal for those trying to cover greys or for someone who wants to zhush up their color with a brighter shade.