You know how you see the "bestsellers" and "most popular" products in beauty stores, so you of course scoop them up, but then you realize you have no idea how to work them? In "How It Works," we're going to explain to you exactly how to get the best use out of your products, whether they are cult classics or hot off the conveyer belt must-haves. We'll teach you the basics, as well as a few industry expert tips to make sure you're getting the most out of everything you buy.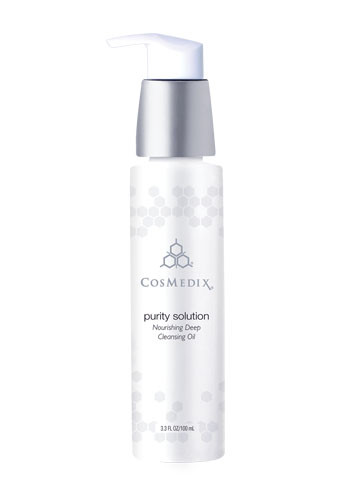 What's washing your face, if you don't fully remove all the dirt, oil, makeup, and impurities? The most important thing to remember after a long (or short) day, is to cleanse your skin. There are many different types of cleansers, all with the same objective of cleaning and ridding the skin of excess nasty, but in turn there are many different ways to actually getting those pretty faces spotless. Oils. Can't live without them, can't live without them! Applying oil is one of the latest methods people are using to get that smooth, clear complexion as far as skincare goes.
More: You're Doing It Wrong: Washing Your Face
Think of oil as your new and life-long best friend. Moisturizing with the magic liquid is just as important as washing your face with it. This process is easy, and the most beneficial for whatever skin concern you may have. Cosmedix Purity Solution is a super light cleansing oil that cuts straight to the point, and unlike many other similar products, this one is the perfect consistency, and mess free!
Product Perks:
Made of a blend of powerful, nourishing oils and extracts such as: Argan Oil, Moringa Oil, and antioxidant-rich Melia Azadirachta Extract.
Fights age-accelerating free radicals.
Dissolves excess dirt, oil, and makeup on the surface of the skin.
How It Works:
Begin with 1-3 pumps on clean, dry hands (the number of pumps is determined by how much makeup is or isn't on your face.) Apply hands to face and rub the oil into the skin in circular motions for about 30 seconds. As you rub this soothing (and great smelling) oil around, it will begin to break down all your makeup and or the pollution that has accrued on your face throughout your day. The final step is to emulsify the oil by wetting your hands and rinsing the oil off. It's not sticky, greasy, nor does it leave behind any residue. What's revealed is nothing less than beautiful, supple, and clean skin.
More: Why You Should Use Face Oils – Even If You Have Acne
Where to buy: Cosmedix Purity Solution, $35, Cosmedix.com