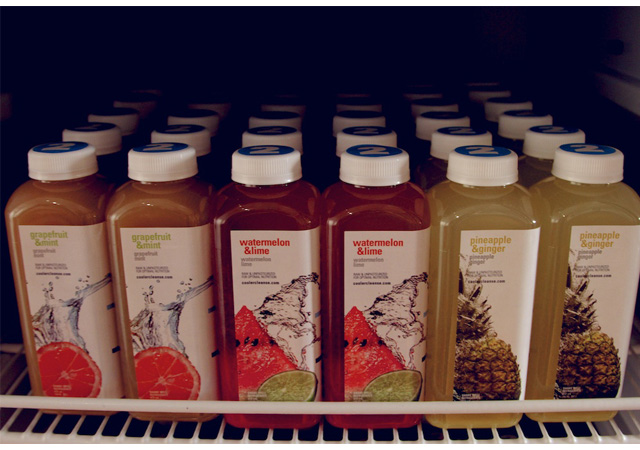 When you work in the fashion industry, cleanses are talked about pretty much as often as everyone's trip to SoulCycle. After a particularly grueling "fashion month" the entire StyleCaster company felt the need to get back to whatever we felt was "normal" by cleansing – something that routinely happens before a big event, or after an especially trying period of back-to-back parties (and work crammed somehow in between).
The more committed portion of the team (11 in total) turned to Cooler Cleanse, the juice cleanse founded by Eric Helms which many know as the one that Salma Hayek swears by. Our cleanse consisted of four days of cleansing – the first would contain raw food and juice, the last three days just juice. In an office of 24 full-time employees (an office which prides itself on its extensive candy bar, let us add), we saw a quick divide of those who could commit to a cleanse, and those who could not.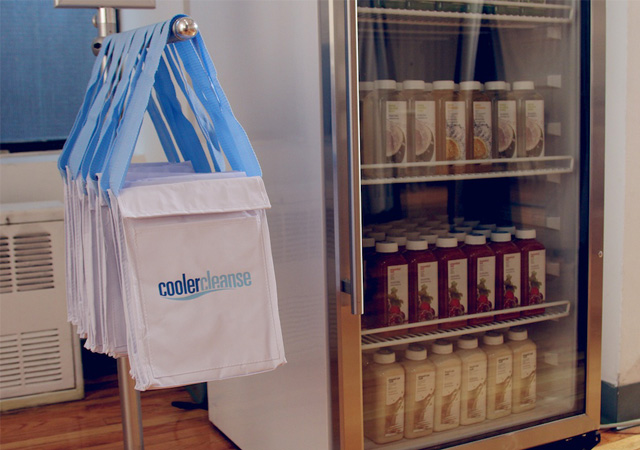 The "cleansers" found the first day in which they were given a raw meal, snack and dessert as well as three juices perfectly manageable. Many even found that they couldn't finish all of what was supplied because they weren't sure of how to balance both the foods (which they were in awe of tasting so great for being raw) and the juices. But by the middle of day two, hunger had begun to strike and the realization that they were only drinking juice for the rest of the week had really settled in.
Abi Bock, StyleCaster's Editorial Producer, said, "Physically, I am craving solid food. Not because I am hungry, but because I want to gnaw on something." Adding to that, Melissa Gilbert, Senior Account Executive, found that it was affecting her social life, "In order to ease the pain of a cleanse, you can't really be social. The best thing to do is just go to the gym and then go straight to bed so that you don't need to think about food!"
But, by the time day three rolled around, many of the cleansers had adjusted to their juice-only diets. The non-cleansers weren't exactly being kind to their fellow employees on the cleanse though. Marni Golden, Editorial Director, has a knack for gushing (and we mean gushing) over a great piece of food. A tuna melt in particular got her going during this fateful cleanse and the poor starving "cleansers" had to just sit and sip their juices.
Going into the homestretch of the cleanse we had quite a bit of cheating going on (more on that later) but for those who had really stuck it out, later in the day on day three was the point where they saw the light at the end of the tunnel and began to feel really good (still had great energy, saw a glow in their skin, and just felt better overall). By day four, drinking the juices was part of their routine, but everyone overall was ready for solid food, and something savory at that. The one complaint about the cleanse was that it was a bit too sweet – everyone wanted a little bit of added salt in their diets which was causing them to crave nachos, burgers, and anything of the like. But, you can actually customize which juices are in your own Cooler Cleanse, so keep that in mind depending on your taste preferences. If you want to try out the cleanse for yourself, Cooler Cleanse is offering a 20% discount for one week only! Just type in "Stylecaster" at check out.*
The Cleansing Truth:

9 people out of 11 cheated in some way while on the cleanse (this consisted of a variety of things, from sipping black coffee daily to Dunkaroos).
Office cleanses don't exactly "bond" your employees, unless your ENTIRE office is doing it (and good luck with that…some people just don't want to cleanse).
Having a social life while on a cleanse doesn't quite work (unless you're okay with meeting your friends without drinking or eating).
No matter what, if you stick with your cleanse for at least a few days, you WILL see results – less bloating, clear skin, and an overall burst in energy.
*Although the 20% discount will only be valid on Cooler Cleanse's site from Monday October 1 through Friday October 5 at 5PM, once your cleanse is purchased you will still have a few months to validate your cleanse.