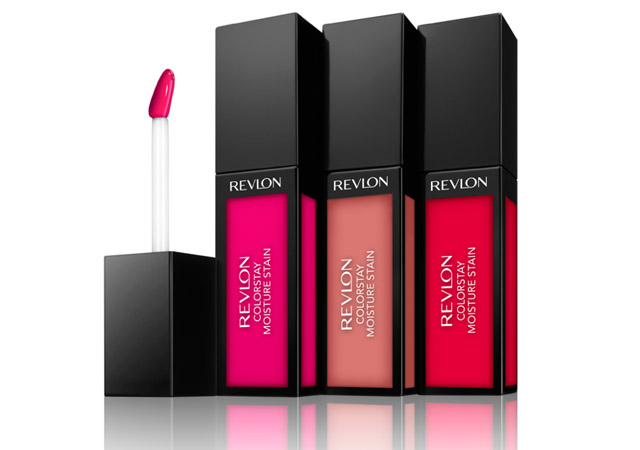 The blistering summer heat calls for one thing—barely-there makeup you can't even feel. But for those of us who feel naked without lipstick, it poses quite the problem. How do you wear bold (or even light) color without the product melting off immediately after stepping outside? It's simple: swap your thick lipstick for a light, yet highly-pigmented, lip stain. Our new go-to is the Revlon ColorStay Moisture Stain.
Infused with vitamin E and aloe, the formula drenches lips in glossy wet color and creamy moisture. When tested, 88 percent of women felt their lips were instantly hydrated without the stickiness—definitely don't confuse this stain with a traditional lip gloss. The product is clearly a must when you want to add just a hint of color to your beach wear, but it's also become a staple for the office and late nights when looking for a darker, bolder hue – the line boasts 12 different shades! Below are some tips to make the stain appropriate for both settings, so you can easily transition your look from day, to night.
MORE: Get the Recipe For a Bold Red Lip
Office Wear:
During the day, you want subtle color that enhances the shape of your lips. Use a product that highlights the ends of the mouth and makes lips appear plumper. The moisture stain intensifies the lips with only a dab or two of color. Simply blot it on lightly (you can even apply with your fingers instead of the applicator) for a sheer wash of color.
Night Wear:
Whether you're meeting up with the girls or spending a romantic night with your man, you can go a bit bolder at night. Amp up the color by adding layers to your morning application. Opposed to lipsticks that start to cake with too many layers, the stain continues to be smooth and soft with each added layer. The only change is the amount of pigment—and we all know that a "cool girl" likes to amp up the volume.
To keep the thicker application between the lines, use a lipstick brush. Dab the brush on the stain's applicator and trace along the lips for precision. The finished result will be much cleaner.
For more information about our relationship with Revlon click here: cmp.ly/3