My thrice-weekly hair washing is a huge production. The actual cleansing, which involves two vigorous shampooings and a deep conditioning mask, isn't even the worst of it—it's the styling process that I'm forced to plan my weeknight (and early Saturday afternoon) schedule around. Between the 45 minutes it takes to wait for  my hair to get 70 percent dry, the blow drying with a round brush, and then going in with the Beachwaver ($199, sarahpotempa.com), my styling routine isn't just long and grueling, it's also terrible for my fragile hair.
Suffice it to say that dry shampoo is much more to me than a cool, time-saving invention to be used during emergencies, when I've slept through my alarm or run out of hot water. It is my lifeline. My roots get oily pretty quickly, and because I want to spare my highlighted hair (and my constitution) the daily wash/dry/style grind, I find myself reaching for the dry shampoo morning, noon, and night. You can only imagine the rate at which I go through bottles of the stuff.
A few months ago, I started noticing that my scalp was… itchy. Really itchy. All of the time. This led to a lot of intense scratching, which led to the discovery that I had developed what looked like dandruff. There was a ton of buildup on my scalp, which wasn't exactly surprising—I mean, when you wash your hair infrequently and use a lot of product, particularly near your roots, buildup happens. I figured it was nothing that couldn't be fixed by a good washing with an anti-dandruff shampoo, but it wasn't enough. I would shampoo twice, then go to dry my hair and find that it looked no less dirty than before. And the texture… the texture can only be described as "gummy." It was gross.
To combat the matted, greasy feeling my hair had even after washing, I kept using—you'll never guess—more and more dry shampoo. It got to the point where I would shampoo my hair, blow-dry and style it, then hit it with half a bottle of dry shampoo before it looked presentable. It was bad. I knew I had to do something about it, but I didn't know what. Then I caught wind of the existence of Alterna Caviar Clinical Exfoliating Scalp Facial ($36, sephora.com), which sounded to me like manna from heaven. I was one step closer to recovery.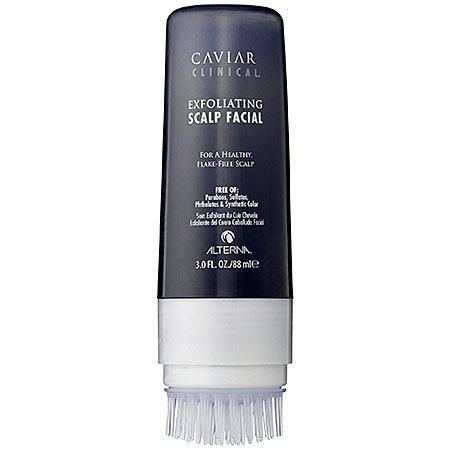 The morning before I tried out the scalp facial, four days after my last wash, I stood in front of the mirror and enveloped my head in a thick cloud of dry shampoo. "One last time," I thought to myself before tossing the now-empty canister into the trash. That night I did what I usually do before my hour-long shower ritual: Put on a robe and warn my roommates. Then I hopped in, wet my hair, and did as the bottle instructed.
Using the scalp facial isn't exactly complicated, but it is a little tricky to get the hang of at first. When squeezed, a scrub-like formula, complete with exfoliating beads, comes out through the bristle applicator. I found the bristles to be quite stiff, so I started by dispensing the scrub into my hands and massaging it into my scalp with my fingers so that I could get a better idea of where I was applying it. Once I had my entire scalp covered, I used the brush to really get in there—it's recommended that you use it to scrub in circular motions to physically loosen buildup.
I followed up with a clarifying shampoo and slathered on Moroccanoil Intense Hydration Mask ($54.40, moroccanoil.com). After rinsing, I wrapped my wet hair in a towel to absorb moisture, watched an episode of "Game of Thrones," then went to examine the results before blow drying. I could tell immediately that the top of my hair looked cleaner and shinier than….maybe ever before? There was no trace of the dull, sticky look I'd grown accustomed to, and my head actually felt lighter, like I'd been carrying around five pounds of extra weight in my hair follicles.
The Exfoliating Scalp Facial all but fixed my scalp buildup problem, but that doesn't mean I won't be using the treatment again. It'll come in handy for clearing up residual dryness and dullness in the weeks to come as I wean myself off my dry shampoo addiction. I can't picture a world in which I wash my hair every day, or even every other day, but while my bad habit has saved me time and effort (definitely not money), it's exactly that: A bad habit.
Read more: You're Doing It Wrong: Dry Shampoo