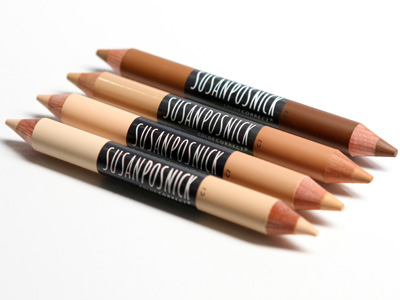 Fact: If there's one beauty essential ladies can't live without, it's concealer. Whether we're battling teenage acne, hiding bags from a hangover, or disguising dark spots, concealer is a lifetime-must. Needless to say, I'm always on the hunt for the best product available, and while I've always sworn by Chanel, I have a newfound concealing favorite: Susan Posnick ColorCorrect.
Related Video: Tips To Cover Tattoos
Susan Posnick ColorCorrect ($22, Susanposnick.com) is a thick, double-ended pencil with one color designed to conceal and the other to brighten your skin. "The Corrector, neutralizes blue veins and discoloration and camouflages imperfections, sunspots and redness on the face," while "The Brightener, fills hollow areas underneath the eyes, defines brows, and softens lines from the nose to the mouth."
It's a gem! Having used this product for almost a month now, there are two reasons I think this concealer stands out from the rest. Firstly, this pencil is a really gentle, creamy formula that glides on your face like butter. It's not dry at all, so you're never tugging at your skin when you apply it. Secondly—and I hate to state the obvious— it's a pencil! This is particularly helpful when using concealer under your eyes. I've always had trouble reaching my lower lash line neatly with my fingers, and a concealer brush isn't always readily available. This pencil reaches every corner of your eye, so no area goes un-touched. The perfect addition to your purse for last-minute touch-ups!
Related Article: Still Battling Acne? It Could Be Rosacea
Unlike a pencil, the important thing to remember about liquid concealers is that they expire relatively quickly. Moisture in those products allows bacteria to grow, which means you should be replacing them every six months. With a pencil, you're getting much more bang for your buck, since the product will last longer. Just be sure to have a big pencil sharpener on hand, like the Sonia Posnick Sharpener ($6.50, Susanposnick.com), to get the most out of this product.
Now that I'm even-toned and blemish-free, I ask you: Is there a concealer you can't live without?