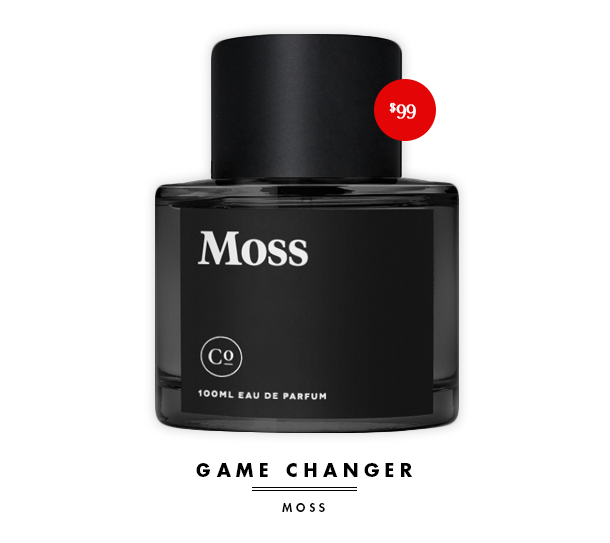 When it comes to fragrance, I am a simple woman: I don't want to wear the newest, trendiest thing or the wildest combination of notes—I just want to smell amazing. And even though I'd tried a lot of perfumes that I like, I hadn't yet found that one incredible scent that really worked on me.
But now I have. Meet Commodity Goods Moss Perfume ($99, Sephora)—the ultimate amazing fragrance. Out of every perfume I own, this is the one that gets me the most compliments. Coworkers have cornered me in the office to ask me what I'm wearing. My boyfriend floats after me like a lovestruck Pepe le Pew. And when I met makeup queen Lisa Eldridge, she hugged me and immediately asked me what my perfume was.
"You smell incredible!" she said, and I swooned a little. Praise from Lisa herself. That's how good Moss is.
From the description alone, Moss is quite simple: it opens crisply with notes of ozone, eucalyptus and orange blossom that mellow into a deliciously moody oakmoss and amber base. It smells sexy and very green, but not in a cheap way—this is like walking through a mysterious forest, ferns crunching underfoot and giant, gnarled trees overhead. It's clean and delicious, simple without being basic or overdone, and I love it so much.
It tends to hover close to your body, unless you've sprayed on quite a lot (in which case it hovers around you like a sexy cloud)—but by and large, people have to get in close to get the full effect of Moss. It also lasts for about 6-8 hours in the summer and longer in the winter, so you don't have to stress about reapplying during the day.
Moss is often billed as a masculine or unisex fragrance, and I've found that it wears really differently on different people: on me, the oakmoss and orange blossom notes come to the forefront, whereas on others I can more clearly smell the musky, amber-y base. But fragrances smell different depending on your body chemistry, and you really have to try them to see what works. This is where Commodity really distinguishes itself from other fragrance brands: they offer a "fitting kit" so that you can sample their entire range of perfumes (including Moss) for $29. You can also buy a travel sized bottle of the fragrance (in a spray, not a roll-on) for $24 if you don't want to splurge on the full-sized bottle right away. Talk about sensible!
Moss is the perfect scent, and the only perfume I'm wearing regardless of season. Because if something is good enough for Lisa Eldridge to compliment, you stick with it. Right?
More from daily Makeover: The New Fall Fragrances You Have to Try