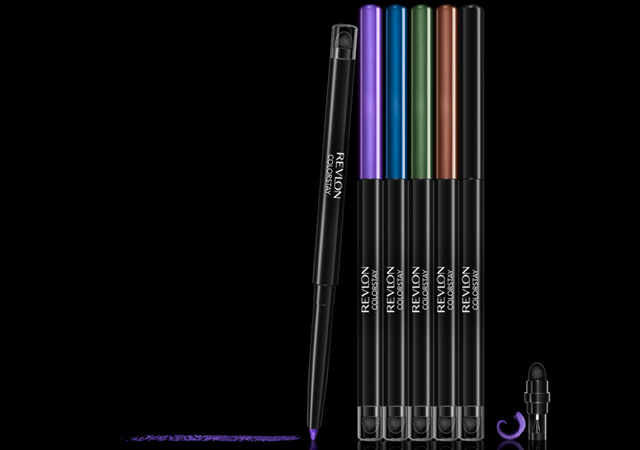 Adding color to your makeup palette doesn't have to be intimidating—and it certainly doesn't have to be reserved for the lips. Colored eyeliner has had a resurgence of sorts, being seen on the runway and red carpet. And although the trend appears to be a "professionals only" practice, any lay person can pull it off with the right liner and color.
Revlon ColorStay Eye Liner, which has always been a reliable option for long-lasting, even liner (we've been hooked since its inception), recently added jewel tone shades that add subtle color you can pull off without looking clownish. Below are some simple color and application tips based on your skin tone:
Fair Skin
Because many with fair skin have cool tones, shades of blue pair nicely. Revlon's new sapphire hue is dark enough that it's not a big transition from classic black. However, the lighter hue actually makes the skin look warmer, as opposed to kohl black that creates such a strong contrast against pale skin. To soften the look further, use the built-in smudger to blend the color.
Medium Skin
Most medium skin tones are warm, making a bronzy topaz a clear compliment. The rich intense color adds a sun kissed effect without the use of bronzer or self-tanner. Always opt for a waterproof version like Revlon's, and you can even apply a little swipe before hitting the beach.
Another option for medium skin tone's? Jade. The soft green brightens any eye color, adding dimension with just one swipe. For precise lines, use the product's new and improved pull-out sharpener.
Dark Skin
With darker skin tones, you can pull off any color. Yet, the brighter the color, the bolder the contrast and the more it pops. Amethyst, a cross between purple and lavender, has a strong pigment that attracts the eye without looking childish. The pencil glides on effortlessly so you can easily control how much product you apply. The key is controlling the amount of product and letting the pigment handle the rest!
For more information about our relationship with Revlon click here: cmp.ly/3