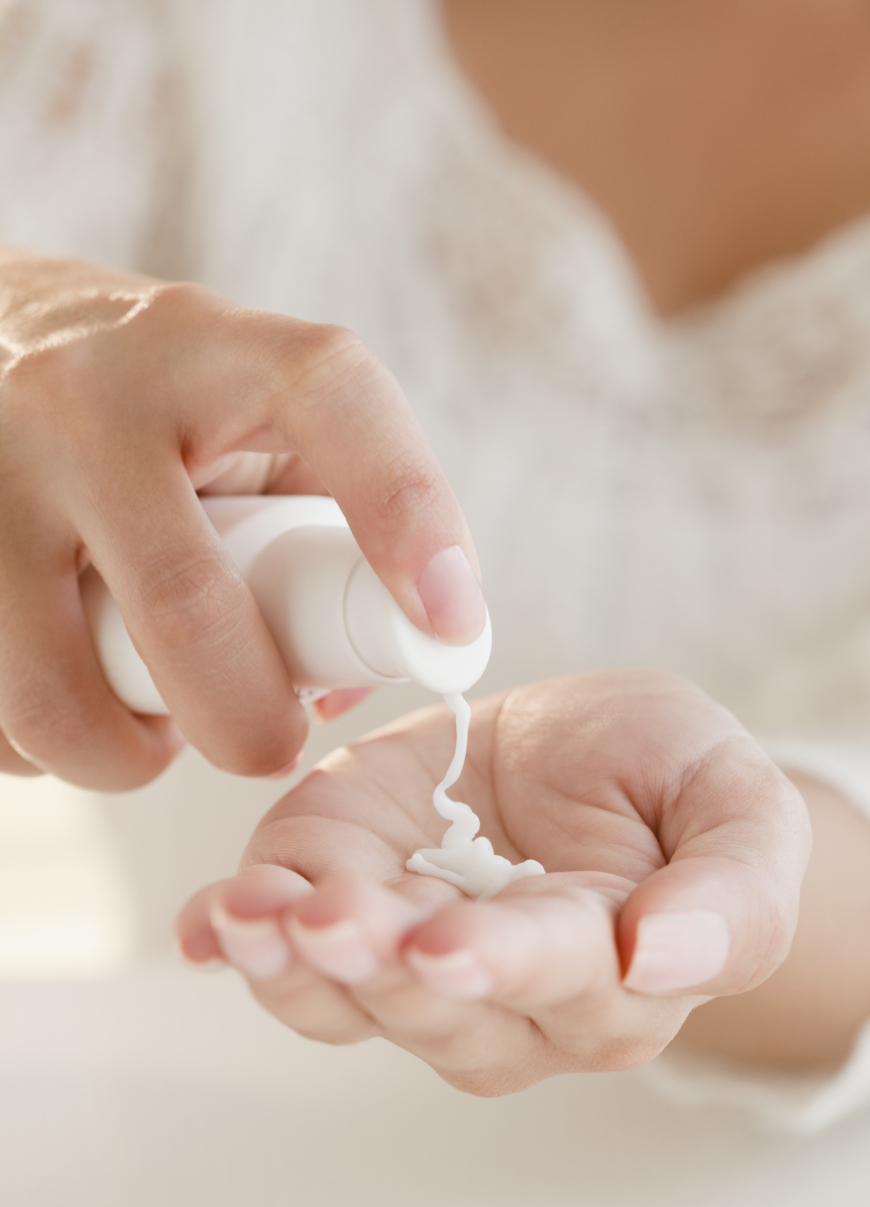 While we love bundling up in luxe, cozy sweaters and sipping on hot chocolate, colder weather comes with some major drawbacks in the beauty department. Frigid temps and biting gusts of wind can turn our once dewy, glowing skin into an unrecognizable dull and flaky disaster. The trouble is, when it's chilly out, we're exposed to less humidity. And though that can be good news for our hair (see you in the summertime, frizzy strands!), that's not the case when it comes to our complexion.
"Even if it's raining or snowing outside, indoor heat and the wind outdoors combine to suck moisture out of your skin, and that creates microscopic openings and cracks in the skin, face and body that lead to itchy rashes and dryness," says Jessica Wu, MD, Los Angeles-based dermatologist and author of Feed Your Face—who also happens to be a ski instructor, so it's safe to say she knows her stuff. Here, she shares six ways to sidestep cold weather skin problems.
MORE: 10 Questions You Should Be Asking Your Dermatologist
Beat the heat: Your skin retains more moisture when you're indoors, says Wu. So when our indoor heat kicks on, draining the moisture from the air, our complexions suffer. Consider using a humidifier during the colder months of the year to replenish the moisture that's lost to indoor heating (and that helps keep your skin dewy).
Switch up your face wash: Everyone—yes, even people with oily skin—can develop dry patches in the winter. To fight flakes, switch to a gentler cleanser. If your skin is more on the dry or sensitive side, consider using a cleaning oil or a cream cleanser. If you're prone to acne and use medication to treat your spots, don't stop using the medication to try to keep your skin hydrated. To stay both blemish and dryness-free, continue using your meds, but ditch cleansers containing salicylic acid. Instead, opt for a more soothing formula. Wu suggests CeraVe Hydrating Cleanser, which contains ceramides, an ingredient that moistures and softens your skin.
Care for your lips—the right way: Flaky lips do more than ruin our lipstick. They can also be annoying and sometimes painful. To get rid of the dead skin that's messing with your lip look, try using a lip scrub. Also, keep an ointmeant lip balm, not a waxy one, handy at all times. Waxy lip balms can actually rip the skin off of chapped lips, so it's important to stick with an ointment, says Wu. Two standbys: Aquaphor and Kiehl's Lip Balm.
MORE: The Health Benefits of Tea
Invest in a different moisturizer: During the colder months of the year, our skin can handle heavier creams that might otherwise make our faces oily. If you have dry skin to begin with, switch to a heavier, more luxurious formula. If you're acne-prone, look for facial creams that contain hyalyronic acid or glycerin (both of which can help plump and hydrate your skin), suggests Wu.
Exfoliate: Dull skin is caused by flakes of dead skin that build up and don't allow the light to reflect off of it properly, says Wu. One way to restore your glow? Exfoliate to loosen dead skin cells and reveal a healthy, hydrated complexion. Try the Active Enzyme Micro-Polish Exfoliator from Wu's skincare line, Dr. Jessica Wu Skincare.
Go coconut crazy: We're pretty big fans of coconut oil, so we were psyched when Wu suggested using the magic beauty elixir (seriously, you can use coconut oil so many ways) when the temperature drops. To keep your skin soft and supple in the wintertime, Wu recommends using coconut oil in the shower as a body conditioner. Just smooth it onto your skin, let it sink in, and then rinse of any excess before you towel dry.
Image via James Grill/Getty Images