If you spent the weekend outside enjoying the fact that spring has finally decided to make an appearance, don't worry, we've got you covered. Here's the weekend wrap-up and today's news you can use: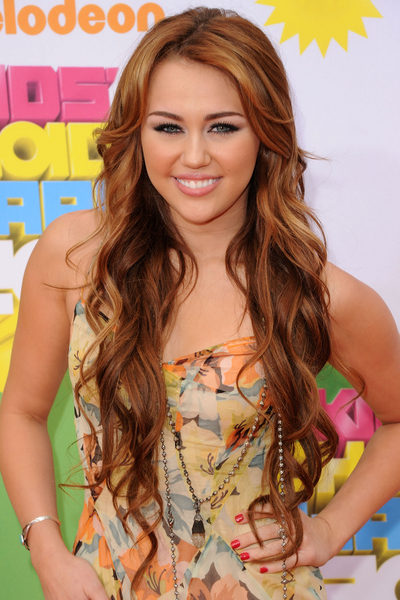 Photo: © Jason Merritt/Getty Images
Award Shows
Saturday night saw celebrities coming out in droves to promote their new projects—I mean show their love for their fans under the age of 15—at Nickelodeon's Kids' Choice Awards. Miley Cyrus, who has been making some questionable red carpet decisions as of late (remember the infamous side boob incident at the Grammys?), wore a lovely floral frock by Dolce & Gabbana that matched the show's Orange Carpet perfectly. She also took home the award for Favorite Movie Actress for her performance in The Last Song. The other big news of the night was Justin Bieber's win for Favorite Male Singer over his mentor Usher. [Just Jared, E!]
Try on Miley Cyrus' hairstyles in the Makeover Studio!
The Academy of Country Music Awards took place on Sunday, and Taylor Swift and Miranda Lambert were the big winners. Swift won Entertainer of the Year, while Lambert took home four awards, including Top Female Vocalist of the Year. Swift looked gorgeous on the red carpet in Elie Saab. The night also included several unexpected duets: Carrie Underwood and Steven Tyler teamed up for Underwood's song "Undo It" and Aerosmith's "Walk This Way," and Rihanna sang her new single "California King Bed" with Sugarland's Jennifer Nettles. [Rolling Stone]
Try on Taylor Swift's hairstyles in the Makeover Studio!
Weekend Casting News
This past weekend also saw some major casting announcements. Lily Collins—one of our Top 10 Young Hollywood Trendsetters to watch in 2011 was officially cast as Snow White (opposite The Social Network star Armie Hammer) in The Brothers Grimm: Snow White (although the title is subject to change). Julia Roberts is already slated to play the Evil Queen. Don't confuse this adaptation of the famous story with the version Kristen Stewart will be starring in—that's Snow White and the Huntsman. Disney is also working on a revamped Snow White for 2012. Do we really need this many stories about Snow White, Hollywood? [Moviefone]
Try on Lily Collins' hairstyles in the Makeover Studio!
Vanilla Ice, the white rapper from the '90s who wanted you to check out the hook while his DJ revolved it, is now a movie star (I know we were all waiting with baited breath for him to reappear). He's going to stop, collaborate and listen to Adam Sandler in his upcoming comedy I Hate You Dad. [E!]
Finally, Kanye West will be dipping his toe into the fashion design pool. He recently teamed up with design team M/M to create a line of scarves inspired by the artwork on his latest album, My Beautiful Dark Twisted Fantasy. [Just Jared]


Try on red carpet hairstyles in the Makeover Studio!