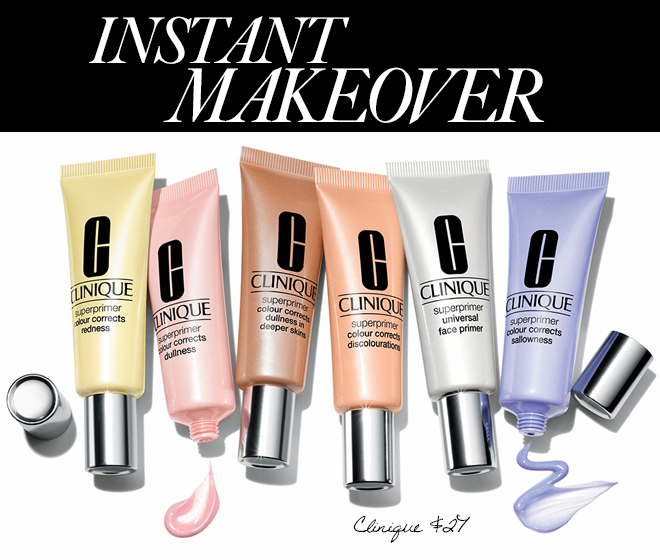 Occasionally we come across a product that bestows an immediate glow, changing our look (for the better!) in an instant. Since we'd be remiss to keep them to ourselves, we highlight these genius finds in our Instant Makeover series.
Using colors like purple or yellow to cancel out complexion issues sounds like a good idea when makeup artists explain it, but I've always been too intimidated — and time-strapped — to try it myself. But the new Clinique Superprimer Face Primers ($27, clinique.com), which come in five tone-correcting shades plus a colorless one, make mastering the color wheel super simple. The silky, one-step primers are like flattering photo filters for your face, and the shade names mean you don't have to guess which one will work best for your skin tone: there are Colour Corrects Redness (yellow), Colour Corrects Dullness (pink), Colour Corrects Dullness for Deeper Skins (bronze), Colour Corrects Discolorations (peach) and Colour Corrects Sallowness (lavender).
The yellow tube gave my foundation a head start in covering up the redness around my nose and cheeks, and its silicone polymers instantly smoothed my skin's surface to create a poreless, matte canvas. The best part? I felt like a total makeup pro when my skin looked glowier than usual, and I didn't even have to study a YouTube tutorial to get there.
Read more: 5 Timeless Makeup Tricks Every Woman Should Master