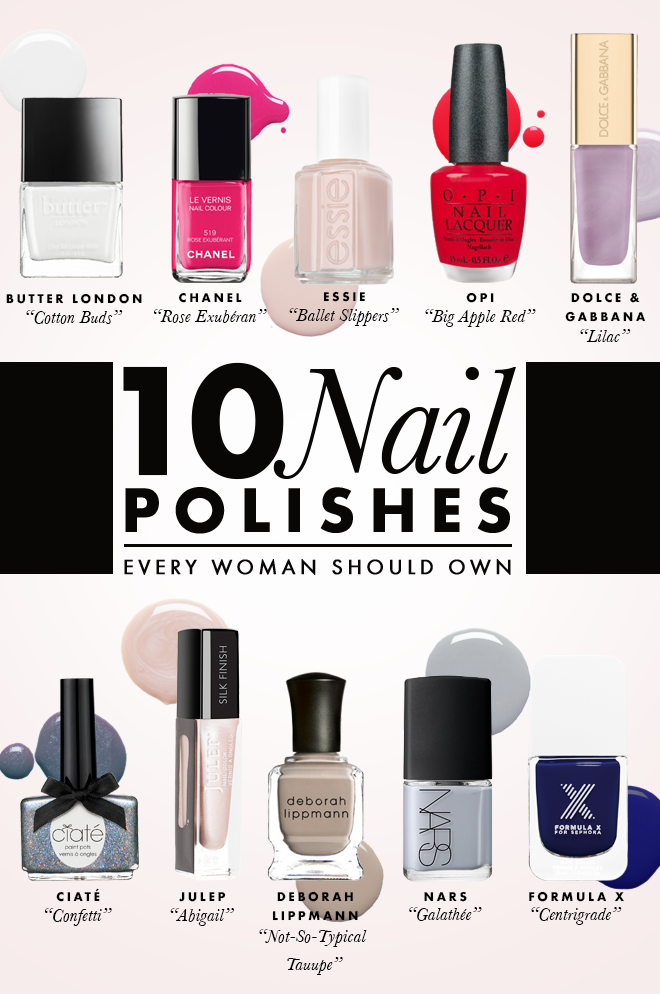 Painting our nails is not only relaxing (especially with a glass of wine and some Netflix), but it's a simple way to change up our look without any real commitment. For those of you that don't like the clutter that comes with a full polish collection, we've narrowed it down to 10 polish colors every woman should have in her beauty arsenal, from a classic red to a metallic every skin tone can pull off. 
Light Pink
Essie Ballet Slippers ($8, essie.com) is a classic pale pink that works with any skin tone. Its sheer finish allows you to tweak just how light or dark you go with layering.
Classic Red
Every woman has those moments when she wants to go classic, and OPI Big Apple Red ($8.50, opi.com) allows just that. The classic red is appropriate for anything—work, a gala, even on the back of a motorcycle.
Nude
For when you don't want to change your polish to match every outfit, a nude is the way to go. And a taupe is the perfect neutral because it's just dark enough to flatter all skin tones and light enough to steer away from looking gothic. Deborah Lippmann Not-So-Typical Taupe ($17, deborahlippmann.com) has a creamy finish that's a little playful and a whole lotta chic.
Hot Pink
Certain times call for a girl to get girly, no matter what age she is. A hot pink like Chanel Le Vernis Rose Exubérant ($27, chanel.com) is a bright color that's still wearable on an average day.
Glitter
Nail art isn't in everyone's repertoire, nor does everyone like the finished result. Adding a glitter to your collection adds spunk without the gaudiness. Ciaté Paint Pot in Confetti ($15, sephora.com) is a neutral shimmer gray with a touch of iridescent sparkles that flash in the light.
Gray
Over the past few years gray has become the new neutral. Chic and polished, its a bit bolder than a beige. Nars Galathée Opaque Nail Polish ($19, narscosmetics.com) is a light version that still looks flattering on fair skin tones.
Metallic
A high-fashion must-have? Metallic. Julep Abigail ($14, julep.com) is a classic pink with a twist, adding bold shine.
White
Show off a tan in the summer or play up the snow bunny look in the winter with a soft white. Butter London Cotton Buds ($15, butterlondon.com) is a creamy opaque that can be worn solo or under other colors to create neon hues.
Lavender
There isn't a spring that goes by where new pastel polishes don't graze our desks. One of the easiest hues to wear is lavender. It's softer than a green and bolder than a baby blue. Our favorite is Dolce & Gabbana The Nail Lacquer in Lilac, ($24, sephora.com) because it has an iridescent finish.
Navy
At least one dark polish is essential for those nights you want to go a little edgy. Black can be a little much, but navy is just right. Just look at Formula X for Sephora in Centigrade ($10.50, sephora.com). So perfect.