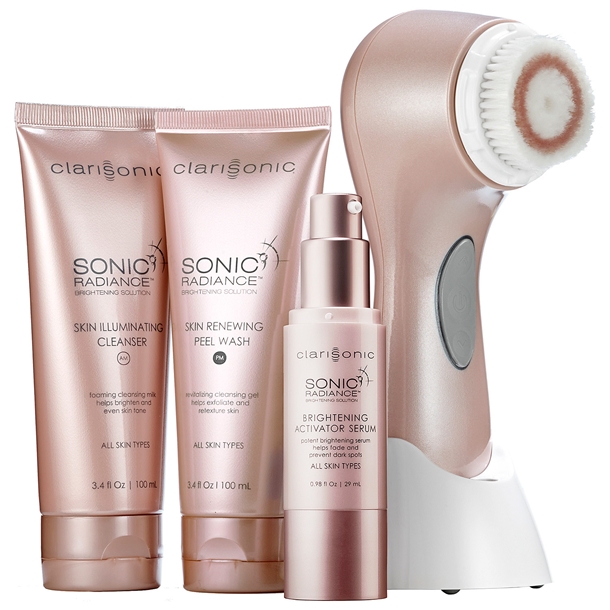 You know how you see the "bestsellers" and "most popular" products in beauty stores, so you of course scoop them up, but then you realize you have no idea how to work them? In "How It Works," we're going to explain to you exactly how to get the best use out of your products, whether they are cult classics or hot off the conveyer belt must-haves. We'll teach you the basics, as well as a few industry expert tips to make sure you're getting the most out of everything you buy. 
One of the most common skin care issues we hear about these days is discoloration. Whether it's due to acne scarring, dark spots, pigmentation, genetics, or any combination, all we want is an even, bright skin tone. There's a slew of products on the market today to help all of the aforementioned issues, but when Clarisonic announced their new Sonic Radiance Brightening Solution kit, our ears perked up. Complete with a Clarisonic Brush (with three speeds) and handle, a cleanser, a peel wash, and a serum, this kit pulls out all the stops. Not only is it a line of products that directly targets dull, uneven skin tone, but it's also made by one of our favorite, most trusted skin care brands.
MORE: 10 Best Dark Spot Correctors to Improve Your Skin
Product Perks: 
If you already have a Clarisonic, you can simply attach the Radiance brush head to your handle and use the new cleansers and serums.
Whether your skin discoloration has been caused by the sun, age, acne inflammation, or any other concern, this system will work to improve clarity and radiance.
With a slightly different regimen for morning and night, your skin gets optimum treatment.
The key ingredients in the cleanser, wash, and serum are licorice root extract, peppermint leaf extract, and ginko biloba extracts, all of which help to give a more radiant complexion.
The new brush head is more luxe and plush, plus delivers more than 300 movements per second, meaning the cleansing products are penetrating your skin without irritating it.
How It Works: 
In the morning, wet your face and apply a nickel-sized amount of the Skin Illuminating Cleanser to the Radiance Brush Head and use Speed 1 to cleanse your face for one minute. Rinse your face with warm water, pat dry, and massage 1-2 pumps of Brightening Activator Serum into your face. Before you go to sleep, wet your face and apply the Peel Wash to the brush, then use Speed 3 to cleanse your face for one minute. Rinse with warm water, then use the serum once again. The Clarisonic is waterproof, so you can use it in the shower without an issue. Replace your brush head about once every three months (the same way you'd replace your toothbrush!) and you'll continue to have bright, even skin.
Where to Buy: Sonic Radiance Brightening Solution, $249, Clarisonic.com