Christmas and New Year's are steadily approaching which means time to bust our your fancy shoes! That's right: It's HOLIDAY PARTY TIME!!!
I have to admit. I've never been much of a Carrie Bradshaw-style spender on shoes. I've reserved my funds for chic bags and wallets. Since my soles aren't sporting the coveted red bottoms, I have to keep a keen look out for shoes that look expensive but don't break the bank. And the thing is, everyone always comments on my footwear! Girls are constantly complimenting my shoes and dying to know where I purchased them.
Here's my guide to stylish, affordable shoes:
I purchased these flats at Old Navy over Turkey Break. The bejeweled garnish makes the shoe dressy, while the pop of ruby red can spice up any all black ensemble.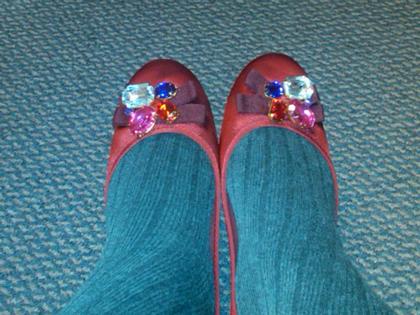 Women's Embellished Ballet Flats. $22.50 OldNavy.com
I'm a sucker for a good heel. Add glitter to the heel and I'm just a goner.
These gold glitter pumps from INC International (Macy's in house brand) are perfect for the festive holiday parties!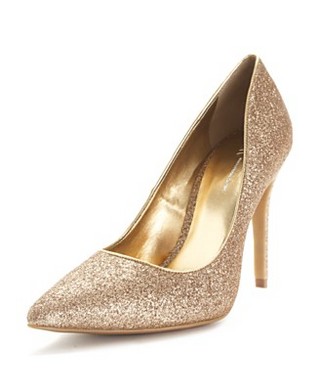 Wear with sheer stockings and a fun red dress or black tights and your favorite LBD. These are sure to have every lady green with shoe envy!
I've recently rekindled my love affair with round toe pumps. The classic style just grabbed me and never let go during the start of Fall 2010. As I was having a mass market black-out in Target a few months ago I stumbled across these lovers: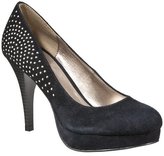 The Women's Mossimo Black Vivyana Suede Nailhead Pump for $29.99 (say that 5 times fast). This shoe goes with every outfit I own, and they are beyond comfortable.
Check them out at Target.com. The Vivyana also comes in a gorgeous blue color I'm currently coveting.
While I love my Vivyana's, I wanted a shoe with a little less nail head and a lot more just plain black. I came across these pumps by Baby Phat over Turkey Break as well.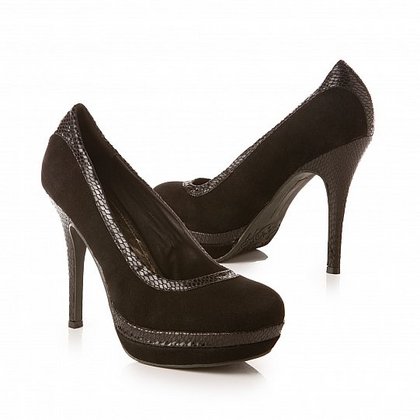 The Chance by Baby Phat look high and scary but they are in fact sexy and comfortable. I took them on their maiden voyage yesterday and every girl in my office was drooling over them!
They made my legs look long and shapely and I was able to walk around in them all day, only switching to flats for the trek to the N/R train for my ride home. These will definitely be a staple in my 2010 Holiday wardrobe.
What are your favorite shoes to parade around in this Christmas season?