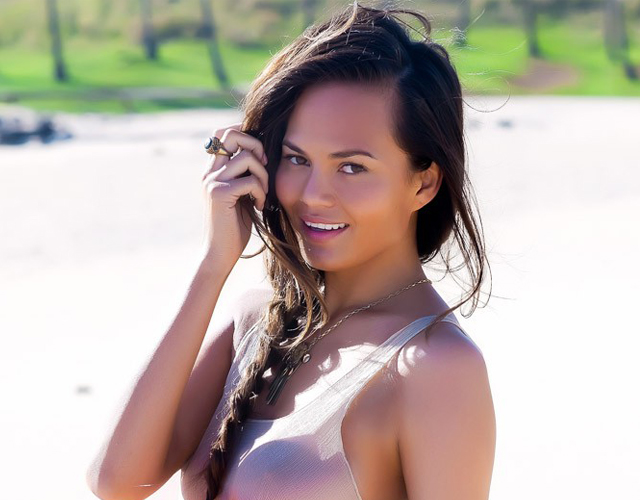 Sports Illustrated model Chrissy Teigen may have become famous because of her bikini body, but she's made a name for herself due to her social media prowess. Teigen, a Venus Razor spokesperson and longtime fiancee to John Legend has no qualms with taking to Twitter to state her opinions on everything from the latest "Teen Mom" scandals to politics. We hung out with Teigen yesterday at her bridal shower (which she claimed would be her only one before the wedding) as Venus showered the bride-to-be on a rooftop in NYC.
Teigen was hanging out with her mom, Pepper, and while taking a break from the "usual" bridal shower games and photo booths she dished to us about some of the special details that would be taking place at her wedding, the rituals that she would be doing the morning of, and of course why everyone should be taking Xanax the day they get married – read on for Teigen's hilarious advice.
What will you do on the morning of your wedding?
Chrissy Teigen: I'm honestly not even there yet – I've had plenty of red carpets since we've gotten engaged and everyone's asking what's going on and I feel bad because I don't even know. The morning of the wedding, I've gotta be honest – I'm going to take a Xanax – I have such bad anxiety that I don't believe that I've even taken the pill in the morning. I'm honestly going to do my typical routine, nothing that I do will be different than my typical routine. I will take the time to shave, and exfoliate, my skin's so important everyday that it sounds so stupid it won't be anything ridiculous.
Can you reveal any special details about the big day?
I have such a big mouth – I know you all follow me on Twitter! First of all, I say so much, and John had to pull me aside – and he's never done this in our entire relationship – and he told me "you need to learn how to answer this question, like just say no" but f*** it I can't say no! I have a wedding cake that's going to be amazing, I'm not a big cake person – I'm not into sweets at all –but one of my must-haves I'm going to have is a crepe cake – Lady M in NYC does the best crepe cake; it's layers and layers of crepe and then drizzled in raspberry sauce. The first time I ever had it was with my mom in Thailand (I think she's crying right now – she thinks this is the realest bridal shower ever). The secrets of the wedding though, it's hard to say.
What are 3 things every bride needs before their wedding?
Aside from Xanax, I don't know! We're going to do a destination wedding so I'm going to have to bring all of my favorite products myself, and I'm going to be very nervous for packing for this thing in general – obviously I'm going to bring my undereye pads, I'll be moisturizing like crazy, and of course my Venus & Olay because I'll be shaving like crazy because I think we'll be doing that garter toss thing. I have a thing about preserving the sexy – maybe I'll stop after the wedding but right now I want to preserve the sexy. And of course I'll bring some sexy lingerie, but gross guys, my mom's here!
What do you love most about shaving?
This is hilarious, first of all. I think my mom can attest to the fact that I'm very OCD and very neurotic and there's something about shaving and being in the shower and doing your normal skin care routine that makes me feel the most normal. And, whenever I go crazy and feel lost – this makes me sound crazy and I realize how crazy this sounds guys – but my friends tell me that I need those normal moments, and I have this moment in the morning when I feel like a regular person. And, shaving is something I've been doing since I was 11 or 12 and it's something that is just so normal for me and as someone who is completely OCD it makes me just feel completely calm.
Image via Sports Illustrated
More Celebrity Secrets From Beauty High:
Jenna Dewan-Tatum Dishes on Beauty Must-Haves and Past Mistakes
Carrie Underwood on Married Life and Skin Care
101 Celebrity Beauty Secrets to Steal