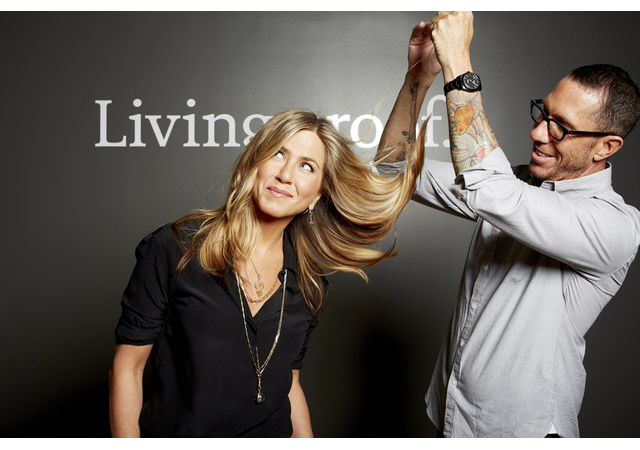 Chris McMillan, Jennifer Aniston's longtime hairstylist (and creator of "The Rachel") may be the hands behind many famous styles in hollywood (most recently Miley Cyrus' new crop) but after all of his years in the biz has never been one to put his name next to a product line – until now. McMillan is joining the team at Living Proof as Celebrity Hairstylist, which also recently added Jennifer Aniston as co-owner and spokesperson.
McMillan obviously will be bringing a roster of high-profile clients, but his red carpet expertise and his extensive salon experience was a huge pull for the Living Proof brand. Jill Beraud, Living Proof CEO, told WWD that he will provide the company with a connection to the salon community. "He will help us develop more cutting-edge products with his tremendous energy and ideas while using his incredible talent to inspire stylists and consumers everywhere."
McMillan owns salons in Beverly Hills and Malibu, but like we said earlier, has never been one to endorse a product before. But, he's quick to say that he was sold on Living Proof's products after Aniston introduced him to the brand. "Chris and I have worked together for years and have always discussed doing something together that would be innovative, fresh and have the actual science behind it," said Aniston.
Once McMillan used the products in his salon and saw them demonstrate their results on her hair, he wanted to learn more, so he met with the scientists of the brand at MIT and Living Proof's cofounder and editorial stylist Ward Stegerhoek. "I love that Living Proof approaches hair differently and actually delivers real innovation and science for both stylists and the everyday woman." said McMillan. "It worked; it's simple – period, and it's not complicated."
Image via WWD