Look hot but stay cool with these hairstyle tips straight from the Spring/Summer 2010 runways, brought to you by our friends at StyleCaster.
This past weekend was one sweaty affair–I'm not talking about a chic schvitz. It was more an AC-mandatory sort of, er, sticky situation where makeup has a way of migrating and hair goes on the fritz. The latter quandary has me wondering if there is a better way to go than a lazy ol' ponytail.
Herein I was inspired to do a bit of hair research–the SS 2010 loose bun runway trends were rather nice in that I've-pulled-this-off-in-two-seconds sort of way. Plus, with the hair off our neck the days are already looking better.
Below are our favorite buns from the season. Read on for hairstyle tips on making them your own!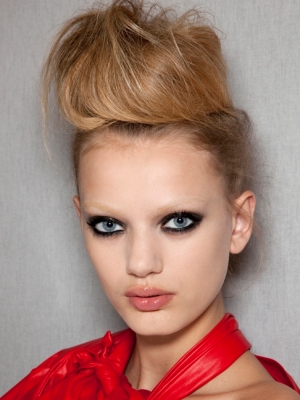 Photo: © Imaxtree
Top Knots
Top knots are a great way to beat the heat and they were seen at shows such as Lanvin and Marc Jacobs. The buns at Lanvin were more relaxed, but to take the style to the street don't pull your hair as tightly into the bun. Colin Gold, expert stylist to the likes of Vivienne Westwood and Naomi Campbell, calls this style the Empire State due to its, er, skyscraping height. To achieve the perfect top knot for day he recommends, "Spray your hair with Matrix Volumizing Hairspray and blast freely with a hairdryer. Then tease the hair from the roots through to the ends using a medium tooth comb."
"Using a brush, sweep your hair into a high ponytail on the crown of your head and support it with an elastic," he adds. "Then gently tease the ponytail to increase the height of the finished style. Wrap the ponytail around itself using your fingers to create your preferred shape. Hold in place with bobby pins and lightly spray with hairspray to hold all day."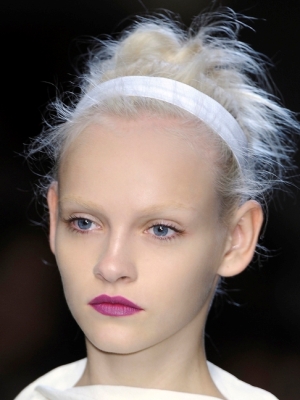 Photo: © Imaxtree
Ballerina Bun
Redken stylist Guido Palau created the tousled ballerina buns for Bottega Veneta's Spring Summer 2010 show. He left out wispy strands of hair to fall from the loose bun, all held together by a youthful ribbon headband – besides, they're functional too, they'll keep your hair out of your face. (Try the Scunci Hairbands in black, white or gray, $5.69, drugstore.com)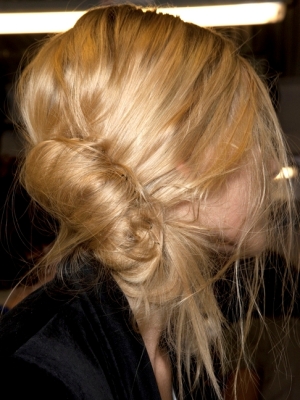 Photo: © Imaxtree
Loose, Side Bun
Christopher Kane isn't only one to watch for fashion, but taking beauty cues from the designer du jour (and an Anna Wintour favorite, natch) could be just the way to go this summer. Kane tapped hair guru Paul Hanlon who sent the girls down the SS10 runway with disheveled buns tucked right below their ears and strands of hair falling loosely around their face. This style is great for the weekend, and you can easily achieve the look by pinning your hair up with large bobby pins. To get that great non-shiny texture to your hair, stylist Colin Gold advises to lightly spray your dry hair with L'Oreal Elnett Hairspray before styling – this will also help support the bun throughout the day. Make sure to leave strands out toward the front of your face, and don't pull the bun in too tight – it's supposed to look messy!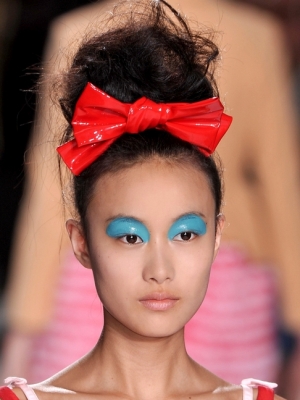 Photo: © Imaxtree
Accessorize
Not only can you do try out a top knot to battle the summer heat (see tip above) but take your hair to new heights with an eye-catching bow or headband. We're not suggesting you throw a huge bow on your head and walk out the door looking like Minnie Mouse's sister, but the right headband or clip would add some glam to an otherwise casual summer look. We love this Spangle Maker Clip from Anthropologie.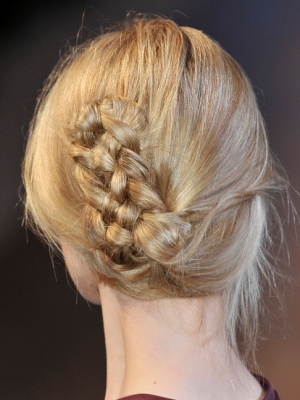 Photo: © Imaxtree
Pinned Braid
I have a soft spot for romantic side braids (Alexander Wang showcased some romantic versions on his SS10 catwalk) and its ability to keep our hair out of our face. But it looks like Rochas may have one-upped the designer by clipping the braid to the back of the head. To mimic this smart take on the braid trend, loosely braid your hair to the side and tuck the braid into the back side of your head pinning in place with a bobby pin. No need for hairspray for this 'do, the messier the better.
Contributed by: Rachel Adler
More Fashion and Beauty News From StyleCaster:
CFDA Beauty Recap: Red Lips, Center Parts and Headbands
Time to Downsize Your Makeup Bag With Multi-Tasking Products
Kiehl's Beauty Expert Talks Clear Skin for Summer
Lash Out! Are New Eyelash Lengtheners Safe to Use?