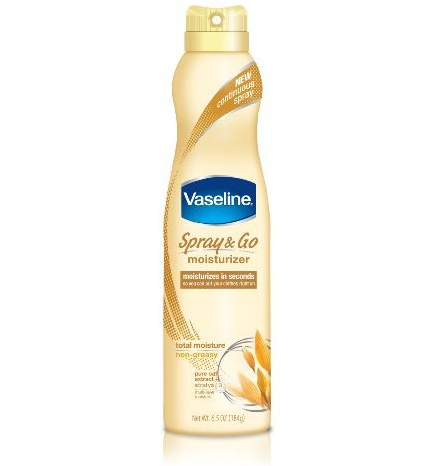 There's nothing we love more than beauty on a budget, especially when the product is actually worth way more than the price tag. "Cheap Trick" is our way of sharing our favorite wallet-friendly finds with the beauty world, so you can look great and have money to spend on more important things (like brunch with the girls).
We admit that during the winter when we're typically layered up to battle the freezing temperatures, we skimp on skincare. Partially because of the whole "out of sight, out of mind" thing, and partially because applying lotion before putting on your clothes tends to leave you feeling moist and uncomfortably sticky. With spring about to show up, it's time for our skin to come out of hibernation, which means it's time for us to find some lotion that really works.
Enter Vaseline Spray & Go Moisturizer, the new way to apply lotion that we can't stop talking about. It's the same Vaseline formula we love, but it's dispensed through a spray can, similar to a sunscreen. Because of the application, it spreads easily and quickly, then dries before you can even put your clothes on.The spray is continuous and lets you reach every bit of your legs, arms and back without feeling greasy or sticky. Vaseline's lotion comes in three different formulas: one for total moisture, one with soothing aloe vera, and the last for healthy, glowing skin. We love this product because it's quick, simple and makes us actually want to use body lotion after the shower.
Where to Buy: Vaseline Spray & Go Moisturizer, $8, Soap.com