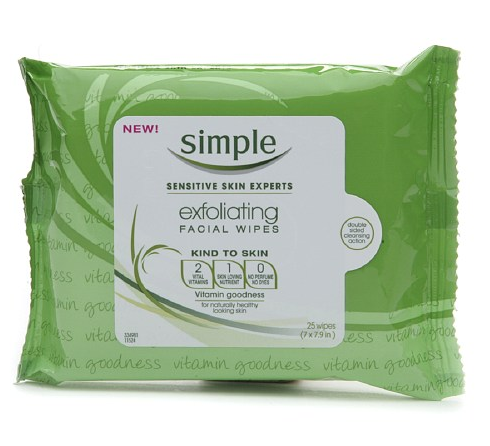 There's nothing we love more than beauty on a budget, especially when the product is actually worth way more than the price tag. "Cheap Trick" is our way of sharing our favorite wallet-friendly finds with the beauty world, so you can look great and have money to spend on more important things (like brunch with the girls).
With all of the running around that happens during Fashion Week, it's easy to skimp on skincare. Between not getting enough sleep and constantly being on-the-go, our attempt at keeping our faces looking fresh comes in the form of uncomplicated products that travel easy. Simple Exfoliating Wipes come in an in-the-purse friendly package and they work to not only cleanse, but also exfoliate your skin.
Simple products are as natural as possible, without any perfumes or irritants to upset your skin. We love these wipes because they're double-sided so you don't miss a spot on your face and they contain aloe vera, so you're left feeling clean and soothed. Plus, they're gentle enough for all skin types, so you can lend them to friends who are also in need of some skincare TLC. A lifesaver for busy weeks or girls who are always rushing around, the wipes are only $5.99 so they won't break the bank.
Where to Buy: Simple Exfoliating Facial Wipes, $5.99, Drugstore.com