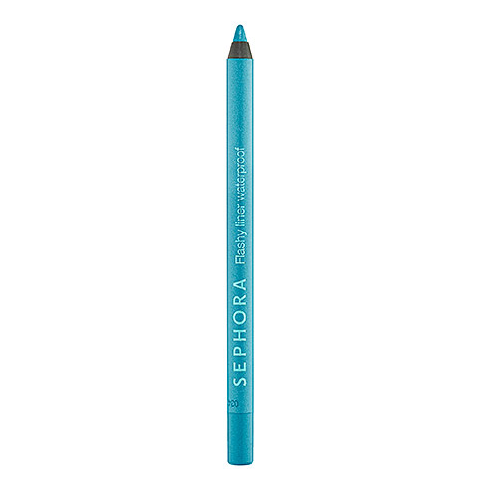 There's nothing we love more than beauty on a budget, especially when the product is actually worth way more than the price tag. "Cheap Trick" is our way of sharing our favorite wallet-friendly finds with the beauty world, so you can look great and have money to spend on more important things (like brunch with the girls).
Of all the spring makeup trends happening at the moment, brightly colored cosmetics is our favorite. From punchy pink lipsticks to bright blue eyes, the more color the better when it comes to our faces. Finding out exactly how to get the colorful looks can be a bit difficult, though, so honing in on the right products is incredibly important. When we came across the Flashy Eyeliner at Sephora, we knew we had stumbled onto something great.
If you're going to go for blue eye makeup, lasting power is key. This liner is waterproof, meaning it'll stay put once you apply it perfectly. Remember to put the liner on carefully, because wearing bright colors draws a lot of attention, so if the application is sloppy it will look extra sloppy. With this pencil, it's smooth so it glides on for easy lining, and its shimmer makes your eyes sparkle like they've never sparkled before. Plus, at $8, it's a total steal for the trend of the season.
Where to Buy: Sephora Flashy Liner Waterproof, $8, Sephora.com