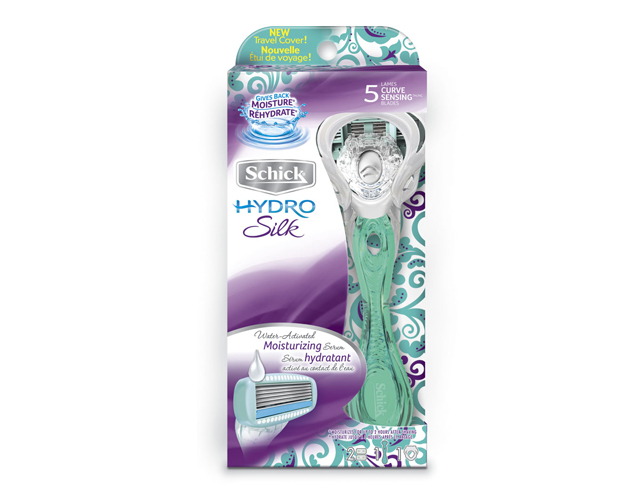 There's nothing we love more than beauty on a budget, especially when the product is actually worth way more than the price tag. "Cheap Trick" is our way of sharing our favorite wallet-friendly finds with the beauty world, so you can look great and have money to spend on more important things (like brunch with the girls).
If we were ever to compare ourselves to "Goldilocks" when it comes to finding that perfect beauty product, it would most certainly be for razors. We are always looking for one that gives us the closest shave (in the shortest amount of time) while still providing moisture to our legs and a comfortable grip so we don't feel like we could cut ourselves at any minute – harsh, but true. Well ladies, we've finally found the razor we've been looking for. Schick's latest launch, Hydro Silk, has been revamped this summer to include a travel cover (which blows our minds!) and a fun new aqua green handle.
The razor features five blades and a unique water-activated moisturizing serum that helps to replenish the skin's moisture while you are shaving. The serum doesn't get all goopy and weird while it sits in your shower either – it simply comes to life when you add water. Plus, the new travel cover protects the cartridge for when you're on-the-go this summer and the ventilated case helps to make sure that the water-activated serum dries quickly after each use. We're obsessed with this idea – we've spent countless vacations wrapping razors in plastic bags only to find that they were damp and are ruined after unpacking.
Where to buy: Schick Hydro Silk Razor, $9.99, mass market retailers nationwide. 
More Hair Removal Tips From Beauty High:
Waxing 101: Important Details to Know Before Your Bikini Wax
A Gel That Stops Hair From Growing: Too Good to Be True? 
The One Thing: Remington Smooth & Silky Body & Bikini Kit